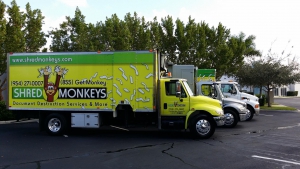 Our featured partner of the month is SHRED MONKEYS, a valued Shred Nations partner since 2012. SHRED MONKEYS is owned and operated in Pembroke Pines, Florida.
We are honored to work with a company that has the dedication to quality and security that SHRED MONKEYS shows every day.
We were able to learn more about SHRED MONKEYS from the owner Elkin Sanchez. Find out what this company is doing to go above and beyond normal shredding expectations.
How Did Shred Monkeys Get into the Shredding Industry?
Shred Monkeys has two sister companies which have been providing business services in the South Florida area for over 14 years. As an added service for customers, they extended their services throughout that time to include document shredding through third-party shredding companies.
Originally, they were not marketing or looking for new business opportunities in the shredding industry. However, after the third-party companies missing several appointments, overwhelming customer complaints, and a staff believing that they could take over the shredding industry, they knew a change needed to be made.
As a result, they decided to separate themselves and launch their very own document destruction company. Therefore, Shred Monkeys was born.
How Long Have They Been in Business?
As a separate entity all on its own, Shred Monkeys Corporation has been in business since 2011. The initial plan of action was to partner up with one of the local businesses that they had been using for previous destruction services, but this plan fell through.
At this point, it was time to make an investment. After getting over the sticker shock of buying their first onsite shredding truck, they were ready to climb right to the top of the shredding industry.
What is Their Business Philosophy?
The goal at Shred Monkeys is to be the BEST, not the biggest. In order for this to happen, they must deliver world-class service every single time. They want their customers to have the "WOW!" factor every time they work with Shred Monkeys for their document security requirements.
In order to meet their goal, Shred Monkeys starts with their employees. They operate under the belief that a happy staff will produce the best service, resulting in the "WOW!" factor that they aim for.
The company so strongly focuses on providing an unbeatable level of service that they guarantee satisfaction. If customers are unhappy with the services they receive, they don't have to pay a dime!
How Has the Business Changed Over the Years?
Shred Monkeys is one of the fastest-growing shredding companies in South Florida, with double digit growth year after year since they launched. Although they started wit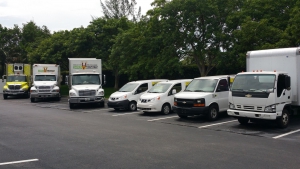 h just one onsite shredding truck, they now have three onsite shredding trucks, two mobile pickup trucks, one mobile pickup van, and one in-house shredding machine that handles product destruction.
As a business, they want to expand their footprint in Florida. Now that they have a well-functioning system, they are looking for partners to become part of the Shred Monkeys team, and have also considered selling the company.
Shred Monkeys aims to learn and better the company every day through new technology, processes, equipment, safety, and software to ensure that their customers are truly receiving the BEST experience.
Do They Have a Destruction Specialty?
Shred Monkeys provides product destruction services for materials other than just paper. An individual's personal information can be represented through many different materials, such as paper documents, electronic files, hard drives—even prescription pill bottles.
Shred Monkeys can accommodate your project, regardless of the type of products and materials you are looking to destroy.
What Makes the Company Unique?
Because they have placed such a strong focus on providing outstanding customer service, Shred Monkeys proudly boasts an impressive 98 percent customer satisfaction rating!
Furthermore, clients are able to count on a 48-hour turnaround time, which is unheard of in the shredding industry.
Thank You SHRED MONKEYS
We would like to extend our gratitude to SHRED MONKEYS for their continued excellence in customer service and devotion to secure document destruction. We appreciate all of the hard work to help prevent identity theft, their efforts in helping the environment, and the quality customer service that they provide.
Ready to Get Connected with Shred Monkeys? Call Us Today!
Shred Nations specializes in connecting those in need of destruction services with the best contractors around. If you would like Shred Monkeys to handle your shredding services, contact us now!
For a free, personalized quote on destruction services, fill out the form to the right or give us a call at (800) 747-3365. Our experts can answer any of your other questions, and within minutes, you will receive no-obligations quotes for your project.