Paper shredding has become an essential part in day to day life.  Over the years paper shredding has grown exponentially due to the fact that it becomes more and more important as time goes by.  When identity theft was first becoming an issue, that is when paper shredding really took a turn.  As time has gone by, paper shredding has only grown, because identity theft has continued to grow.  Not only that, but as identity theft grows, there are new and improved ways that thieves use to steal other people's identities.  This is scary and it definitely puts people on edge.  Anyone who has read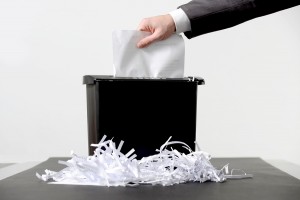 anything about identity theft knows just how horrible it can really be.  Why even play with the option of allowing yourself to get caught up in that?
Instead of putting all of your information out there for thieves to get, the easiest, most affordable way to protect yourself and/or your company, is to shred your paperwork.  This not only makes sure that it is completely destroyed so that thieves aren't able to read your secure information, but it is also better for the recycling process which further erases the information on your documents.  When it comes to a letter or two, ripping them into pieces isn't that difficult to do.  But if you are looking at boxes of paperwork that you need to destroy, there are people who can help you destroy that paperwork so that you are protected.  Never leave any information out that you wouldn't want a criminal to find!