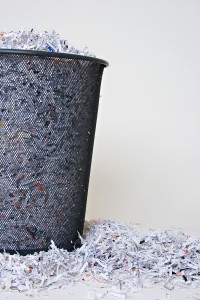 When it comes to your document destruction, you want to always make sure you find a solution that makes you feel the most comfortable.  It doesn't matter if you are looking at personal paperwork, or business records.  If you are working with a company that doesn't handle your paperwork in a way that makes you comfortable, it is time to find a new solution.  Most companies will follow pretty similar shredding policies, but there are a few different things you can look out for in order to make sure you have peace of mind that your documents are being destroyed in a similar way to how you would handle them.
Do they recycle? – Some companies are going to recycle your paperwork once it is shredded.  This is a good thing, not only for the environment, but also because it means your paperwork is going to be thoroughly destroyed by the time everything is said and done.
Do they shred on or off site? – Every business and every home are different.  If you don't mind your paperwork being taken away to be destroyed, then this is a non issue for you.  But if you want to see your paperwork being destroyed right in front of you, you may want to look into companies that are able to shred onsite.
Are they an accredited business? – You always want to make sure that the company you are working with is familiar with all shredding laws, and that they are able to handle secure documents.