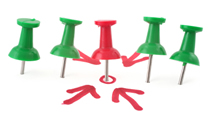 So your business has decided to deal with their document shredding issues by hiring a shredder, but what should you be looking for in a shredding service?  Considering all the options out there, it is important to know what to look for in a shredding service before you decide on which one to hire.
It is important that the shredding service you hire uses up to date equipment.  The shredder should be able to handle a vast deal of paper, along with paper clips and staples.  There are some people that dabble in shredding and use smaller shredders that must be fed by hand. This should be avoided since every person that touches the paper increases the risk that it is mishandled. Modern shredders are automatically fed by the bin full.
Another important aspect to look for when hiding a shredding company is to find one that offers live, real time observation.  If your business deals with a lot of confidential information and keeps client information on hand, this is particularly important.  With live observation, you are able to watch the actual destruction of you documents, allowing you to have the peace of mind that they were properly destroyed. This can be done at your site with a mobile shredding truck or you can go to their shredding plant. You may not watch every time your material is destroyed but the shredder should be willing to let you perform random audits.
A safety factor that can be overlooked is the  secure shredding bins.  Each container that your documents to be shredded are placed in should be locked, and no one should handle these documents before shredding, either.  Keep control of the keys so only authorized people have access to full sheet documents.
Price is another option to consider when considering a shredding company.  Shred Nations can help your business find a shredding option in your area at a price point that fits your budget.  Prices will, of course vary, depending on how much document shredding your business requires, how often you need shredding services and the location of your business.  You should also look for a hiring a shredder that is easy to work and communicate with.
Good customer support is always critical and should be able to provide you with answers you have in regards to document shredding and safety quickly via emails or phone calls.  You may want to consider a shredding company that can provide on call service, in addition to your regular scheduled shredding service. Ask what is the standard time to schedule an appointment. You never want to be put out weeks before they can come out.