Reality TV has finally picked up on the exciting world of shredding. Discovery Channel has a show called Shred! about a SSI shredding repair crew out of Oregon. The first episode aired last night. One that might interest you is next Monday when the team tries to bring a mobile shredding truck back to life.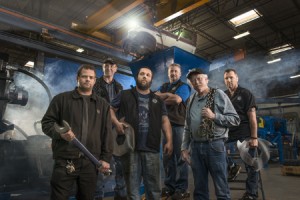 I have shredding best described in a story from Mike Tingle. He purchased a mobile shred truck back in the 80's and was servicing a customer in an office building. They were heading up a crowded elevator with a shred bin. Mobile shredding was new at the time and a man asked what is was like to operate a shredding truck. Mike asked if he had ever shot a ketchup bottle with a BB gun. He smiled and said he had as a boy. Mike then said a shredding truck is like having an infinite supply of ketchup bottles and BBs.
There is something oddly satisfying from destroying paper. Even more fun is when we get to destroy products. It is fun to watch pallets of electronics go through a shredder. In moments you have piles of material in tiny pieces. Now is the task of finding a home where it can be recycled.