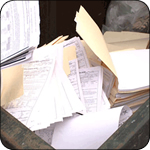 Residents of Eldorado Apartments learned on Tuesday that their applications for residency had been left in a dumpster behind the complex. An apartment complex is really just an application for credit. It contains all the financial data to do a credit check by the management company. This is the exact information that identity thieves need to set up credit at other institutions.
This information must be destroyed  by FACTA requirements. This can be done by the company or with an outsourced shredding service. The key for the business is to keep documentation on what was shredded. By keeping documentation you are performing a check to make sure it is done. If the shredding is done in-house then the person who signs off on the work should be their manager.
The information in the Raytown, Missouri incident was discovered by a resident of the complex. She notified the local TV news desk. The managers of the property provided no comment about the incident. Bad PR might fade away but the fines for the FACTA violation hit the bottom line right away.