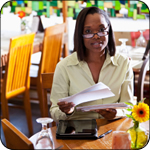 Commercial shredding services are only for companies with deep document stacks and even deeper pockets, right?
Wrong.
Commercial document shredding is a wise investment for every business, whether dropping off a few sensitive documents to an authorized collections center or scheduling regular pickups over time.
Why not simply purchase a commercial paper shredder for office use? Because this may not be sufficient to guarantee that sensitive information will remain secure until it is rendered completely undecipherable, as required by laws such as FACTA, HIPAA and GLBA. Is it really a good use of time and money to pay an employee to stand at the shredder and monitor the destruction of every single shredded document? As well, employees, unlike machines, grow tired and distracted. In frustration and with a lack of understanding for the importance of the task, employees may discard sensitive information in the trash.
Why risk it when professional shredding trucks can shred thousands of documents in an hour? Commercial document shredding services offer quick, painless processing and the highest security, complete with a Certificate of Destruction confirming your confidential information was properly destroyed prior to recycling.
For Small Businesses with Low Volume
As the Internet has grown bigger, "small business" has gotten smaller. According to research firm IDC, the number of United States home-based businesses will stand at more than 20 million by 2013. Just imagine all the documents 20 million home businesses will generate, not to mention millions of commercial small businesses.
Regardless of size, the value of secure document shredding remains the same. If your business produces low volume, a commercial shredding service like Shred Nations will direct you to an authorized collection center, where you can drop off your documents for shredding and remain in compliance with state and federal laws.
For slightly higher volume businesses, Shred Nations will provide locking storage bins for total security of your documents prior to shredding. At a designated time, the bins are collected and transported to a warehouse where shredding takes place as you monitor the process on closed circuit TV.
For high or ongoing volume,  Shred Nations will send a specially equipped truck to shred your documents on-site while you monitor the process.
In each scenario, you will receive a Certificate of Destruction detailing date and time of your document destruction.
Don't play games with document security. Get secure document shredding for your business.