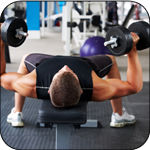 People who go to a gym may have heard about shredding workouts. The goal is to cut weight and improve muscle tone. I can't speak to its effectiveness but I do know about another kind of shredding that every gym needs to do.
Many gyms like to sign up members to long contracts. This involves a credit application. As with all credit applications there is a large amount of personal information collected. Many people never consider how that information is handled. People who went to Cruz Fitness in Lincolnton, North Carolina now have to wonder about their information security.
The company went out of business and left boxes with personal information in the dumpster. It was discovered by someone looking for used gym equipment. He called the local news about his find. They came out and investigated the dumpster. The police arrived and took possession of the documents.
FACTA requires the shredding of all documents that contain information derived from a credit report. That would include  any documents a gym uses to extend credit to their patrons. The problem is who is responsible when a company goes out of business. Many times the land lord just tosses everything into the dumpster. The solution is for the bankruptcy court to take precautions to make sure a shredding service is brought in eliminate the risk to past customers and employees. An alternate solution is to hold owners and manager personally liable for exposed personal information.