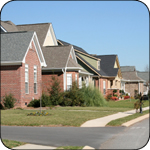 It is very popular for businesses to employ rigid document destruction techniques such as document shredding in order to protect confidential information from getting stolen or misused with malicious intent.
Despite the common nature of document shredding in the workplace, this security measure is not popular in households. As such, several institutions such as municipalities, banks and real estate offices provide "free shred days" to ensure the public has access to safe destruction of documents.
While this is a good public service initiative, "free shred days" do not happen frequently. As this only occurs once or twice a year, it comes as a burden for most homeowners to amass and store paperwork that are designated for shredding.
Organizing a neighborhood shredding party is definitely a good alternative to ensure that you and your neighborhood have an avenue for proper disposal of confidential waste.
What is a neighborhood shredding party?
A neighborhood shredding party is a public paper-shredding event that can either be organized by individuals, associations and institutions. This is intended to give a selected neighborhood access to convenient and secure means of disposing paperwork that may contain personal information and confidential data.
How do you organize a neighborhood shredding party?
To organize your own neighborhood shredding party, it is important to hire a reliable third-service provider to come to your neighborhood on any given day, preferably a weekend.
It is also important that you invite your friends and even the entire neighborhood to bring the documents they intend to shred to your place. You could ask them to pay a fixed price for the shredding service or you can divide the cost equally among yourselves.
This is definitely an effective and efficient way to shred your documents at the fraction of a cost.
 What are the benefits of a neighborhood shredding party?
 It is hardly time-consuming. Professional shredders can administer the shredding of 300-400 pounds of paper in less than five minutes.
It is cost-efficient. Having to split the expenses with a large group reduces the overhead costs associated with employing a third-party service provider.
It is highly secure. Most shredding trucks are equipped with video cameras that record the entire process to ensure total destruction of all surrendered paperwork.
By providing a secure and cost-efficient solution for homeowners to dispose of their paperwork properly, the risk of identity theft is reduced with neighborhood shredding parties.