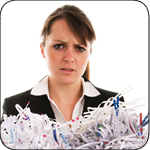 After going through two bad experiences with other shredding service providers, I knew I needed to do thorough research the third time. I obviously started off with the mission to shred the documents myself, but that is a story for another day, in short I failed. So my best bet was to do a thorough research before settling on one document shredding service provider. A good friend of mine suggested Shred Nations, but I was skeptical, I wanted to make sure that the service provider was well worth my money. I made a list of questions that I believed needed to be asked in order to find the right company. It greatly helped me find the right one, and hopefully these questions will help you find the right one too.
Is Call in Service Available?
This is the first question you need to ask, especially if you have a small workforce. Calls in services make the task hassle-free, fast and most importantly relatively more reliable. So make sure that the shredding company caters to businesses on-site too.
Do They Offer Live Observation?
This is very important, particularly if you opt for on-site document shredding services. Letting an employee watch over while they shred the documents provides that further much needed security that your documents are not sieved through by someone else before getting shredded.
What Equipment Do They Use?
The quality of the shredding equipment they use will directly reflect the quality of services they provide. Make sure that they use the latest shredding equipment that can shred staples, paper pins, etc too rather than having their employees manually remove them prior to shredding.
Do They Offer On-Call As Well As Scheduled Shredding Services?
Some document shredding providers will offer either one of these, whereas the good ones will provide both. The best option is to go for a service provider which offers both, as in case you need on call services then you wouldn't have to look for a new service provider, and scheduled shredding services will make sure that your documents are taken care of in a timely manner.
Ready to Start Shredding? Shred Nations Can Help!
Our network of local contractors has the tools and know how to get your shredding job of any size done fast. Call us today at (800) 747-3365 or fill out the form on the right for free quotes today! We will get back to in minutes to get your project started!