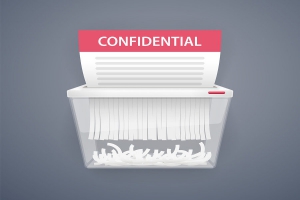 Beware to anyone buying a shredder at Office Max. Apparently none of the models they sell actually shred paper. This became obvious after it was discovered that Office Max in Naples throws old job applications with social security numbers, addresses, and other personal information into a dumpster behind the store.
If you buy a shredder and hope people assign themselves the extra job of shredding you are a fool. Here was a store with hundreds of shredders sitting around, and not the small ones but the big ones that cost hundreds of dollars, and yet they couldn't be troubled with actually doing the job.
The only document destruction program that is effective is a shredding service that comes by regularly and provides the business with documentation that it was all shredded.
Get Free Quotes on Convenient Shredding Services Today!
The only way to ensure your documents have been destroyed is to employ a company whose business model is focused on security. Shred Nations strives to bring you the most affordable and secure shredding services so you can stay safe without breaking the bank. Call us at (800) 747-3365 or fill out the form on the right for free quotes on your project today!