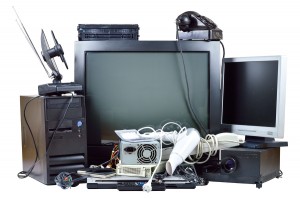 With the rapid advancement of technology over the past 20 years, consumers have created a glut of electronic waste for recycling. It seems that a new mobile phone, computer or tablet are purchased every few months by any given consumer. Technology has given the common man a wealth of information all at their fingertips but has also created a need for electronic waste recycling services. In 2009, there were 2.37 million short tons of electronic waste disposal.
Many consumers and businesses may not know that throwing e waste in your regular trash is actually against the law in many places. Not only is throwing e waste in the regular garbage against the law, but it can also be extremely harmful to the environment and ecosystem. So given the previous information that poses the question, "What do I do with my e-waste?" There are electronics recycling providers in virtually every city that can take care of your e waste recycling and computer recycling. These companies will take all kinds electronics recycling including:
You may wonder what the difference between electronic waste recycling and electronic waste disposal is. They are virtually the same. Electronic waste disposal is another term for electronic waste recycling. A company that does electronic waste disposal recycles the materials when finished to ensure that no damage is done to the environment.
Shred Nations has a network of partners that are highly qualified and trained in destruction and e waste recycling. Give us a call at (800) 747-3365 or fill out the form on the right column to get FREE NO OBLIGATION QUOTES IN MINUTES.