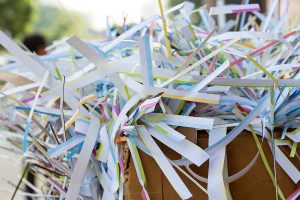 Although paper products are the most common recyclables, due to their small size paper shreds can't be sorted from other materials, meaning most recycling plants won't accept paper shreds.
While you may not be able to take them in, many recycling plants do partner with nearby shredding providers who are able to bring in paper bits in enough bulk that they can be recycled exclusively.
Recycling is the final step for shredding services like mobile or offsite shredding. You're provided a certificate of destruction with details including chain of custody, date and time of service, location, and witnesses, and afterwards the paper shreds are taken to be pulped and recycled.
During the pulping process, the ink from shreds is removed and they're broken down into a pulp. This pulp is afterward used to make new paper products, as a result leaving your information gone without a trace.
Find a Shredding Provider to Shred and Recycle Your Materials
Shred Nations partners with certified and reliable shredding companies and their recycling partners throughout the U.S. Call us today at (800) 747-3365 or fill out the form on the right to get free no-obligation quotes from document destruction providers in your area within minutes.