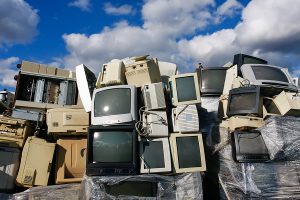 Throwing televisions, CRTs and other devices such as projectors in the trash is against the law. Without proper disposal, the toxins can be very bad for the environment. Whether you are replacing a TV or have a few old ones piled up, proper disposal is a critical part of the removal process.
Proper disposal not only prevents the TVs from hurting the environment, it also removes them from your space legally.
How Does TV Disposal & Recycling Work?
---
To protect the environment and maintain compliance, it's important to dispose of your TVs properly. There are generally two options when it comes to a TV disposal, including having your TVs picked up and dropping them off yourself.
Have Your TVs Picked Up: You can have your old TVs picked up at your business or residence. After hauling them away, they will be broken down and the harmful materials are removed. Afterwards, they're recycled for the precious materials inside of the TV. 
Drop Off Your TVs: You can drop off your old TVs at a specific recycling facility. This option can generally save you money because you are not paying for the pickup service. It's the same process for drop off and pick up. The harmful materials are removed from the TVs and then the recyclable materials, like metals, are taken to a recycling facility. 
The TV Disposal Process
---
TV destruction ensures your data is completely unrecoverable in the future. The process is secure, convenient, and compliant. Here's how it works:
You begin to collect TVs for destruction and recycling.

The secure truck comes to your location to pick up your TV's when requested.

Your TVs are transported to an off site facility to be destroyed and recycled.

You will receive a certificate of destruction for your records, including FACTA and HIPAA compliance.

The recyclable parts are taken to a facility for reuse.
Environmentally-Friendly TV Recycling
---
TVs and other electronics contain many harmful toxins and chemicals. Improper disposal can have them ending up in landfills or the ocean. To maintain compliance, it's critical to properly handle all electronics disposal. EPA and state hazardous waste requirements ensure the proper disposal of TVs and other electronics.

Get Free Quotes on Disposal & Recycling
---
Since 1999, Shred Nations has been helping businesses and individuals nationwide with the TV disposal and recycling needs. Our network of service providers are local and ready to help no matter what your need is. Whether you are a business with hundreds of TVs or looking to get rid of a single TV, we have solutions for everything.
To start the process, fill out the form on this page, use the live chat option, or give us a call at (800) 747-3365. Afterwards, you'll receive a free, non-obligation quote, and you can choose the best one for you.