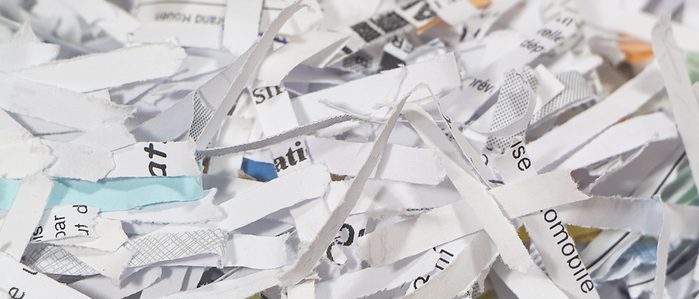 While there are some businesses working in the office again, there are still many working remotely. However, security is still important no matter what location. If remote employees are still handling papers, the question now becomes how to handle the paperwork and its contents.
Papers hold a lot of important business, customer, and personal data, so it's critical to dispose of these documents properly. Shredding is the most secure way to keep this information safe because it eliminates the risk of recovery. With employees working from home, shredding becomes a little more tricky.
Two Major Risks With Shredding Remotely
While shredding is a secure process, there are a two major risks of shredding at home:
1. They May Not Be Shredding the Papers At All
One of the risks of employees shredding the papers is they may not go the extra step to shred in the first place. It's possible the papers would simply be thrown in the trash or recycled. However, this will not protect the information when found in the wrong hands.
Recycled and thrown away papers can easily be dug up and found. In addition, this information can be exposed, and potentially used for malicious purposes. It's important to take care of the documents by properly disposing of the old, expired, and unneeded papers.
2. You Can't Recycle the Shreds Yourself
Oftentimes, it can be confusing when it comes to recycling papers. Paper shreds often can't be recycled because of the small amounts. These shreds often end up in landfills because the recycling plants aren't able to filter through the shreds because the quantity is too small, so they end up being passed over. 
How to Handle Shredding With Remote Workers
Shredding services are a secure way to handle documents because they are shredded to bits and pieces. It's impossible to recover the shreds. Afterwards, the shreds are recycled in bulk amounts which is more sustainable. Additionally, there are a few options when it comes to shredding options for remote workers:
Shred Events
A shredding event is a great option for businesses and community members. There is a shredding event where there are mobile trucks to perform shredding right then and there. This can be held by businesses for their employee to bring in their papers to shred.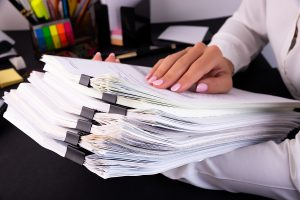 Mobile and Off Site Shredding
There are a few options for a shredding service, including mobile shredding and off site shredding. This depends on quantity as well as preferences. Mobile is a shred truck that comes to any location to shred onsite. Whereas, off site shredding is where a shred truck picks up the papers to take them to a shredding facility.
Drop Off Locations
A great option for employees to do is directly go to a drop off location to shred the papers. Drop off shredding is a retail location where individuals can drop off their documents and place them in a secure bin. Once the bin is full, the retailer shreds the documents securely. This is ideal for only a few papers and up to 100 lbs.
Do You Need Shredding Services? We Can Help
Shredding helps to protect business information in the office or remotely. Shred Nations can help you through the process and find the best service option for your needs. Additionally, we'll make the process as easy as possible for you.
To start the process, fill out the form for more information, use the live chat option, or give us a call at (800) 747-3365. Afterwards, you'll receive a free, non-obligatory quote from providers near you.