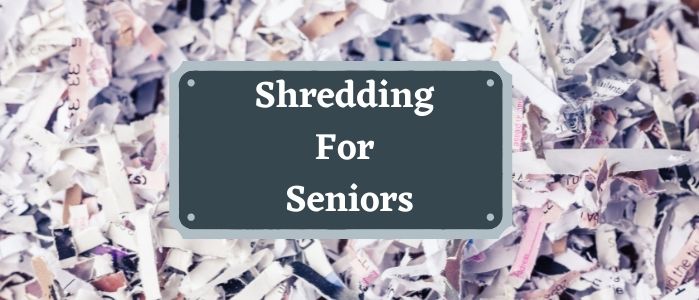 The need for shredding sensitive documents is important for everyone, regardless of age. As cases of identity theft continue to rise, it's important to protect the most vulnerable members of our communities. It's for this simple reason that we've created this handy resource regarding shredding for seniors.
Senior citizens are just as vulnerable, if not more so than other demographics when it comes to identity theft and cybercrime. In fact, according to a study by the FTC, seniors are more frequently being singled out as softer targets for criminals. Fortunately, there are a number of ways that we can all help to prevent these crimes.
Why are Seniors More Vulnerable to Identity Theft?
To answer this question, there are actually a number of potential reasons. A pair of studies done by MIT and UCLA both found that seniors as a whole, are just more trusting than younger generations. This simply means that older populations may give someone the benefit of the doubt, when it may not be warranted. In both studies, seniors were less likely to see warning signs of fraud, and be more forthcoming with strangers. Unfortunately, criminals are aware of this phenomenon and use it to their advantage.
Often times with only a few pieces of information from mail, trash, or even online profiles, criminals can use social engineering to commit fraud. Perhaps using an address and a phone number, scammers can claim that the victim has won a prize or a sweepstakes. Using a few pieces of medical or prescription information, scammers can pretend to be a doctor or hospital in order to gain trust or financial information. The list goes on and on from tax fraud to estate fraud to insurance fraud. These crimes are often perpetrated over the phone, and can seem legit to even the weariest of consumers.
Shredding Options for Seniors
It's for these reasons that shredding for seniors is absolutely vital. Sometimes seniors don't have access to transportation or may be confined to their residences. Fortunately, there are ways around almost any obstacle to keep seniors safe.
Basically, anything that has any personal identifiable information (PII) should be securely destroyed. Ripping up paperwork or removing labels from prescription bottles isn't enough. Criminal have become more and more sophisticated in their methods of obtaining this information.
Drop-Off Shredding
For seniors that have access to rides and transportation, this may be the simplest and most cost-effective option. There are thousands of locations around the country that will handle personal document shredding. Simply bring your paperwork to the location nearest you, and your documents will be shredded on the spot. In many cases the price per pound is as low as one-dollar.
Some locations will even shred documents for seniors free of charge. Check with your nearest location to see if no-cost, or discounted shredding is available for seniors. Additionally, some pharmacies and medical practices will also shred pill bottles for seniors. Prescription labels carry massive amounts of personal information that can be used in a number of deceitful ways.
Mobile Shredding or Community Shred Events
For seniors living in age-restricted or assisted living facilities, mobile shredding is often the best bet. Mobile shredding is when a truck equipped with an industrial shredder comes to your location to shred onsite. This eliminates the need for transportation or hauling heavy boxes around. This option allows an entire community to shred their sensitive documents without needing to leave the residence.
Some communities host these events regularly, and even AARP hosts a number of free shredding events around the country. Mobile shredding services can be more cost-effective than you might think. Services typically range between $115-145 in most cases, but that price can fluctuate depending on specific circumstances. That's a small price to pay when you consider that a single visit can service an entire community or residential facility.
Shred Nations can also help you host your own community shredding event if there aren't any in your area. It's a great way to build trust in the community and help seniors stay protected. Also, always check with your local municipalities, as these events are often hosted by banks, libraries, and police departments free of charge.
Ship 'N' Shred
Shred Nations is also proud to offer ship 'n' shred services. This is exactly what it sounds like. You pack your own boxes with paperwork you need destroyed, and ship it to our secure facilities using FedEx. This service is especially convenient, because it happens at your pace. The Typical cost for this service is right around $32 per box.
Shred Nations is Committed to Helping Seniors Stay Secure
All of the above services are compliant with all state and federal privacy laws including HIPAA and FACTA. Your security is our top priority whether you're six or sixty. Let us help you keep yourself, and your loved ones safe with professional shredding services. Our experts can help you whether you have on box to shred or one hundred. No job is too big or too small.
To start the process fill out the form to this page, use the live chat option, or give us a call at (800) 747-3365. You'll receive a free, no-obligation quote in minutes from destruction specialists in your area. Be sure to ask how we can help you set up and promote your next community shredding event too.