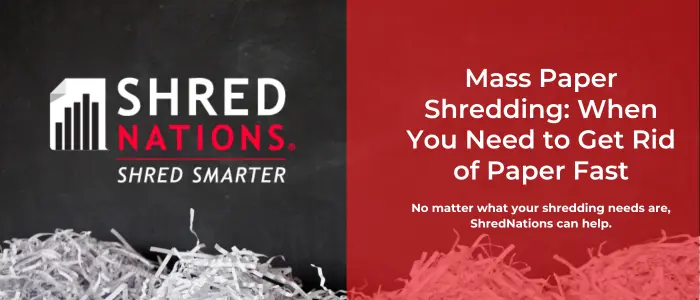 If you're like most people, you've probably let people around your office or house build up. At times, it's hard to know when and what to shred, and that often leads to boxes full of unused paper lying up. At a certain point, the time comes for a mass paper shredding that cleanses your stationary sins.
While this might seem like a herculean task in itself, the reality is that it's rather simple. Depending on the size of your paper build up, you can choose between mobile, off-site, and drop-off for your mass paper shredding needs. Each option presents convenience, security, and value, but which one is best depends on how deep your document pool has become.
Mass Shredding Options
Mobile shredding works best for larger shredding projects that you'd prefer to see done yourself. With this option, a specialized paper shredding truck comes to your location, and you can watch with satisfaction as your mass of paper turns into unreadable shreds.
Due to the size of the truck and the labor, it typically runs around $90 for the service, for up to 120 lbs of paper. As a result, this option typically makes more sense for businesses, but you can make it economical if you split it with neighbors or friends that also need shredding services.
Off-site shredding is similar to mobile shredding. A truck comes to your location for your paper, but, instead of shredding it on site, takes it to a secure shredding facility.
Since the truck does not need to be outfitted with shredding technology, the cost tends to run lower than mobile shredding.
Drop off shredding requires a little more effort on your part, but for smaller shredding needs, the savings are well worth it. With drop-off shredding, you take your boxes of paper to a location near you with a secure lock box.
Then, once the box fills, a shred truck arrives and takes the contents of the box to a secure off-site facility, where the papers are shredded, for the low price of a $1/lb.
For those who have smaller orders but want a more immediate shredding solution, Ship'n'Shred provides a perfect middle ground. For around $32 a box, a FedEx truck will come to your house or office and take your papers to a secure off-site facility. All you have to do is load the box, label it, and the delivery driver and shredder will do the rest.
Why Choose Mass Paper Shredding 
The two key benefits that come from mass paper shredding are enhanced data security, and more space in your office or home.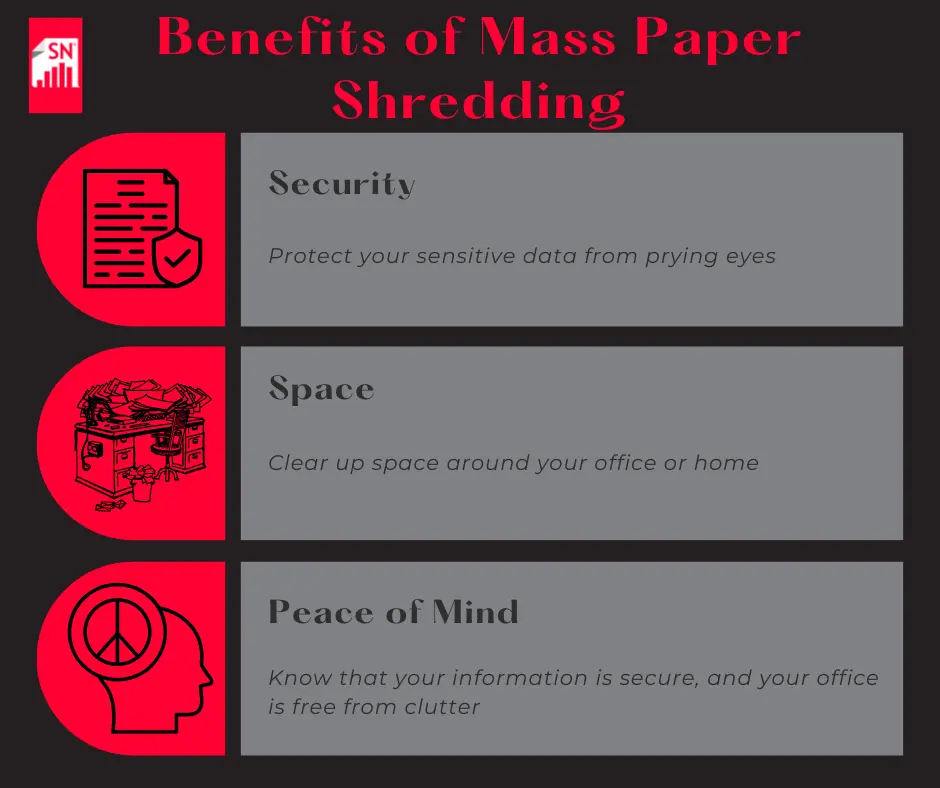 Security
Much of the coverage around data security revolves around the digital world, but physical data security remains important. Whether at home or at the office, you likely possess several documents that contain sensitive personal information. Making sure those documents go through the proper destruction process is important to keeping your data safe.
Space
Paper, while innocuous at first, can quickly eat up space. It can take the form of filing cabinets, stuffed desks, or papers scattered around. Regardless, clearing out that paper gives you your space, and sometimes your sanity, back.
Find Your Mass Paper Shredding Solution with Shred Nations 
No matter your shredding needs, whether they be mass paper shredding, hard drives, or electronics, Shred Nations can help. We partner with a nationwide network of secure and trusted shredding providers who can take care of all your shredding needs. Give us a call at (800) 747-3365, and we'll find a shredding solution for you in just minutes.