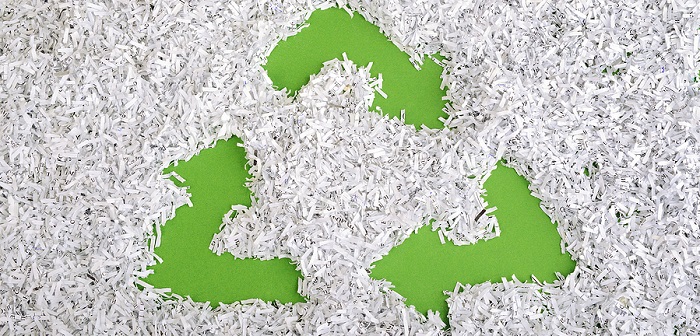 There's no denying that recycling used paper and other paper products is an environmentally-friendly practice; however, one common myth that needs to be busted is that shredded paper can be disposed in a normal recycling bin in order to be recycled.
Unlike paper plates or plastic Tupperware that can be easily sorted, small scraps of paper can't be filtered out during the recycling process. Even if you're taking steps to try and personally shred documents sustainably, your paper shreds will still end up in a landfill along with all the other trash that can't be recycled.
Learn more in the video below about recycling shredded paper, including the reality behind shredding and recycling's relationship, the potential consequences for do-it-yourselfers of choosing to either shred or recycle as opposed to doing both, and most importantly how shredding and recycling are combined during the process of different shredding services like mobile, off site, and drop off shredding.
Video Transcription
Shredding + Recycling: The Unfortunate Truth
Coming straight from waste disposal kingpin Waste Management, shredded papers should not be placed in normal recycling bins along with other recyclables because even though paper products are one of the most common types of recycled materials, shredded paper unfortunately can't be properly sorted and recycled due to its small size.
During the recycling process the various types of materials are run down a conveyor belt to be filtered out, but when it comes to bits of shredded paper they're too small to separate and end up in the container for landfill waste, as a result now posing the question of how shredding and recycling can be combined.
To All Dot-It-Yourselfers: The Consequences of Choosing One or the Other
There are trade-offs for shredding and recycling on your own.
Shredding Instead of Recycling
If you opt to shred documents yourself, you might be disposing your information more securely, but unfortunately those paper shreds are going to be ending up in a landfill.
Also even if you do separate paper shreds from other trash, if you try to take them to a recycling facility, you'll be turned away because of your limited quantity.
Recycling Instead of Shredding
Since you have to recycle paper whole, even though your documents might not be ending up in a landfill, any sensitive information they contain is at risk.
Security is the whole point of shredding documents—if at a facility someone filtering recyclables sees valuable personal or financial information, who's to say they won't steal it?
How Shredding Services Make Recycling Paper Shreds Possible
When it comes to recycling, one of the greatest benefits of using a shredding service is how recycling is already built into the shredding as the final step in the process. Unlike you trying to recycle shreds normally with other materials where they inevitably end up in a landfill, shredding providers produce shreds in enough bulk that facilities can recycle the shreds exclusively, and so as a result many providers will partner with a recycling facility to handle paper shreds post-destruction.
1. You Collect Materials (and Schedule Service If Needed)
The first step is the same among all the various options for shredding—start by boxing and gathering your materials, and if you plan to use mobile or off site shredding then you'll need to schedule a date for service as well.
2. Providers Come to Collect Materials or You Bring Them In
Next comes the actual document destruction, although it does vary slightly from service to service. With mobile service, a shred truck comes to shred at your location. With off site service, the truck comes to you for pickup but then goes back to a shredding facility. And with drop off service, you bring your materials into a walk-in location.
3. You Get a Certificate of Destruction & They Recycle
Once the shredding is complete, providers give you a formal certificate of destruction with details like where and when the shredding took place. Finally, the shredding service will work with their partner recycling provider to recycle the shreds exclusively.
Looking to Shred Paper Both Safely and Sustainably?
Join the countless other individuals and businesses that we've helped to securely dispose documents through shredding while still being able to recycle the leftovers when you visit us at Shred Nations today. To receive free, no-obligation quotes for shredding, fill out the form to the right, use the live chat option, or give us a call at (800) 747-3365.