When you consider the amount of information that your business processes on a daily basis, it is nerve racking to think about what may happen if an identity thief or fraudster were to get their grimy hands on your hard-copy documents.
Given the vast amount of paper and digital media that amasses over time, effective information destruction policies and practices are now a necessary aspect of doing business. Having a method set in place can help save organizations time, effort, heartache, legal costs, embarrassment, and more.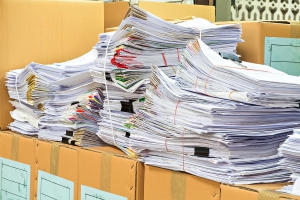 Why You Need to Protect Your Hard-Copy Documents
If your business information were ever to fall into the wrong hands, the consequences could be detrimental to the future of your company. Keeping your documents protected could save you and your business a world of troubles in the long run.
Imagine you are the manager of a large medical practice that is being sued after 10,000 pages of medical records found their way into the hands of an investigative reporter or thief. When asked by the plaintiff's lawyer the process you use to get rid of hard copies, an answer such as "Lenny the computer guy does it whenever he can" is the same as pleading guilty.
The issue is not necessarily how often the data is shredded. It's rather whether the destruction is done as standard practice. As part of effective oversight, a formal system of information destruction must be created and implemented.
If data destruction is indeed performed in a formal, documented manner, then a plaintiff's lawyers will have much less to use against you. This means the case would likely be judged in your favor by a jury.
Create a Document Management Plan
From creation to destruction, having a plan that details the process of managing your important records is one of the best ways to combat hard-copy data breaches.
Here are eight steps that should be the mainstays of a solid document management program:
Conduct a complete inventory of all records

Determine who is going to manage the process

Develop a retention and destruction schedule

Determine the best way to store and manage your records

Create and document proper procedures

Create a disaster recovery plan

Training and implementation

Maintaining and auditing the program
To find out complete details on how to establish an effective document management plan that protects your company, check out this article: Create A Sound Document Management Plan
Shore Up Your On-Site Security
Having a set plan for maintaining your documents is not the only way to keep yourself protected. There are physical security measures that you can take within your office building in order to prevent a hard-copy breach from happening to your business:
Lock everything down

Install fire and security alarms

Limit access to your critical documents

Label all documents, files, and file cabinets appropriately

Conduct regular audits

Destroy your records securely, and document it when you do
These simple precautions could prevent you from having to deal with the consequences of identity theft or fraud in the future.
Shred Your Documents Securely and Regularly
By regularly shredding confidential documents you are protecting your company from a data breach. There are several options available to a business when considering a shredding program. Find out more about these options below:
Mobile Shredding

Mobile shredding is the most stress-free and convenient way to shred your documents. All in all, the entire shredding process takes about 20 minutes and you never even have to leave your office.
The shredding contractor simply gives you or your business a secure container. Here, you will store any documents that need to be shredded. You can either set a schedule for the contractor to come by and empty the containers on a regular basis. Or, you can schedule pick up times as you go.
Mobile shredding is the best option for industries that require the highest level of security for their documents. Mobile shredding gets its name from the fact that the shredding machines are located within mobile trucks. This allows them to come to your location and shred the documents while you watch. What better way to be sure of the destruction than to see it with your own two eyes?
Offsite Shredding
Offsite shredding is intended for large volume shredding jobs. The process is very similar to mobile shredding in the sense that you collect documents in large bins. When the bins are full or you are ready to shred your documents, you call your shredding contractor to come pick up the containers.
The difference with offsite shredding is that the containers are transport to a secure shredding plant. There, they go through an industrial-sized shredding machine. However, because you are not able to witness the shredding of the documents, offsite shredding is often a cheaper option than mobile shredding.
With offsite shredding, the security of your documents remains a top priority. To start, the contractor never comes into contact with your documents. You are still guaranteed a Certificate of Destruction, and the process remains compliant with FACTA and HIPAA regulations, as well as any state data destruction laws.
In House Shredding
Another option to dispose of your paper files is to perform the shredding internally. This often seems like a cheaper short-term solution; however, internal shredding is usually more expensive in the long run.
When shredding documents internally, there must be policies and procedures in place. This ensures that the destruction of your sensitive information will be performed only with approved destruction methods. This includes only purchasing the shredding machines and other equipment that have been approved by the Information Security Department.
Furthermore, the person who is in charge of the internal shredding process will have to be paid and trained to properly handle sensitive documents. The time spent training and shredding each document individually can be costly when comparing to outsourcing your destruction project.
Why are Secure Shredding Containers Necessary?
The shredding bins provided to you by your shredding contractor offer a completely secure, locked space for you to store your documents between your scheduled shredding services. Even if someone were to break into your office, they would not be able to obtain the documents from your locked containers.
What size bin you require depends on the amount of documents that you accumulate to be shred. There are typically four different types of shredding containers.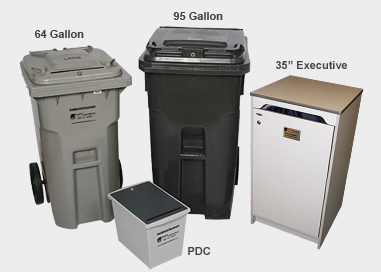 To learn more about the size container you will need, check out this article: The Importance of Secure Shredding Containers
What Documents Should I Put in my Locked Shredding Container?
Once you have decided what size bin you will need to store the documents in for shredding, you will need to establish which documents will need to be stored in the containers. This should be a well-documented plan, referred to as a document retention schedule.
Some of the documents that you should list in your document retention schedule include:
Personnel Files

Tax Documents

Insurance Documents

Investment Documents

Property Records

Business Transactions

Anything with any personally identifiable information (PII)
At the end of the day, shredding bins help protect sensitive information for companies and individuals until final destruction can be completed.
Get Free, No-Hassle Quotes Today!
Shred Nations specializes in helping you find the shredding contractor that's right for your business regardless of the size of the job. If you're looking for a quote on document shredding services, please fill out the form to the right, or give us a call at (800) 747-3365.
Within minutes of receiving your request, you will receive quotes from shredding contractors in your area so that you can select the company that fits your project or your office best.