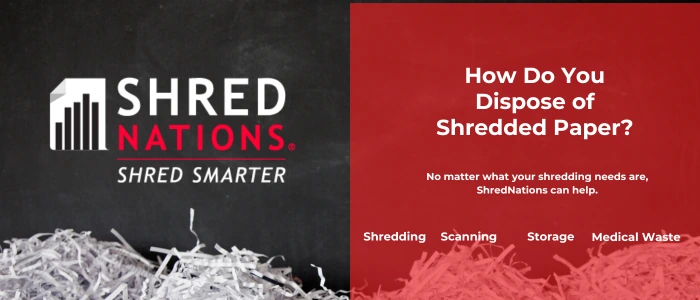 Whether you're shredding paper to reduce clutter around your home or to protect sensitive information, there's one constant, you need to get rid of it. So how do you dispose of that shredded paper?
It might be tempting to simply throw it into the garbage. While a truly enterprising thief might put them back together like they did in the movie Argo, the likelihood of that is probably low. However, if you do so, you will contribute to the trillion pound trash problem.
Thankfully, it's easy to find a solution. Using a professional service for your shredding needs, or finding a recycler that can take your paper, can solve your problem with minimal effort and cost.
How Do You Dispose of Shredded Paper Sustainably?
Professional Solution
If you have a few boxes sitting around, or your office closet is full of old paper, a professional service can make your life easier. The two main options here are mobile and drop off shredding. For just $1/lb, you can go to a drop off location and they will take care of the shredding and recycling for you.
If you have too much paper to make a drop-off possible, you can go with a mobile shredding option. A mobile shred truck will come to you and either shred your paper on site, or take it to a shredding facility. Once the shredding finishes, the facility recycles the paper.
The Do it Yourself Option
If it's just a few wastebaskets or trash bags, it's likely going to be easier to do it yourself. However, you will need to do a little research on how to recycle it properly. Some municipalities can recycle any paper you throw in the recycling bin, while others will require you to go to a more specialized facility. Your county or city should have guidelines on their website about what paper you can recycle, and where to do it.  
While you don't have to worry about this if you're choosing a professional option, it's important to remember if you're doing it yourself. Shredded paper needs separation and containment outside of your regular garbage and recyclables. If you just throw it in with the rest, the paper will get sent to the landfill, as recyclers won't be able to sort it. 
The Recycling Process for Shredded Paper
Once the paper gets shredded and properly sorted, the recycling process plays out like this: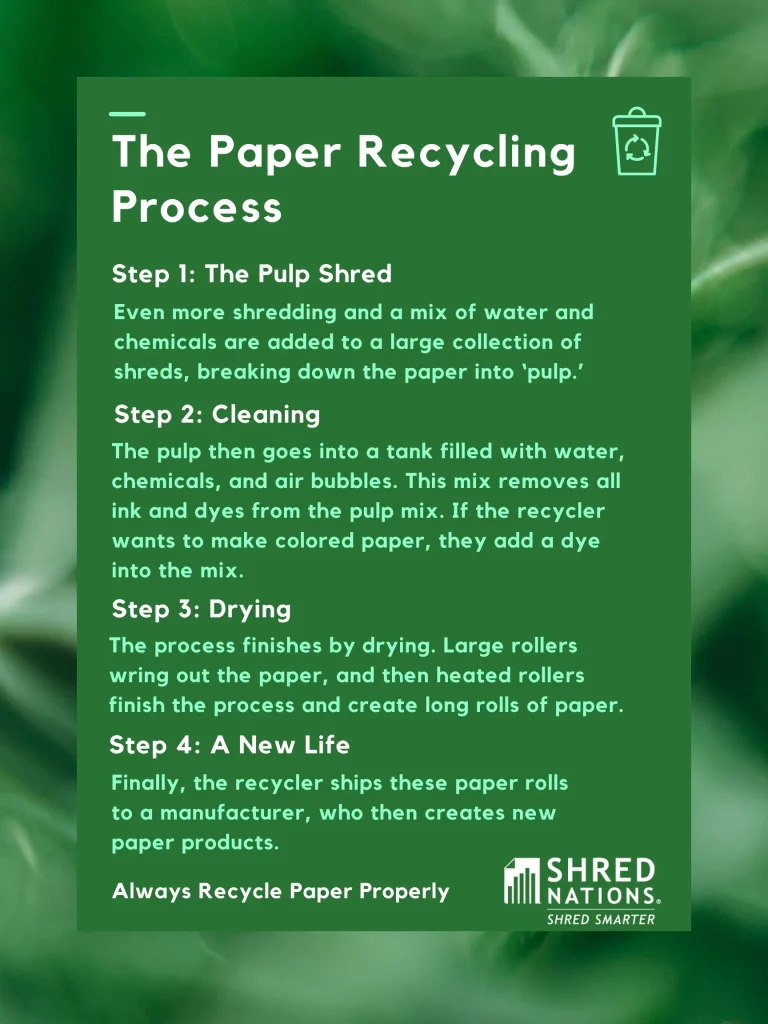 Find Affordable and Sustainable Paper Disposal Options with Shred Nations 

If you're looking for a professional service to take care of your paper, Shred Nations can help. We partner with sustainable and affordable shredding partners all over the country. Give us a call at (800) 747-3365, or fill out the form on the page, and we'll find you a shredding partner that fits your needs within minutes. Alternatively, you can check out our directory to find a drop-off location close to you.