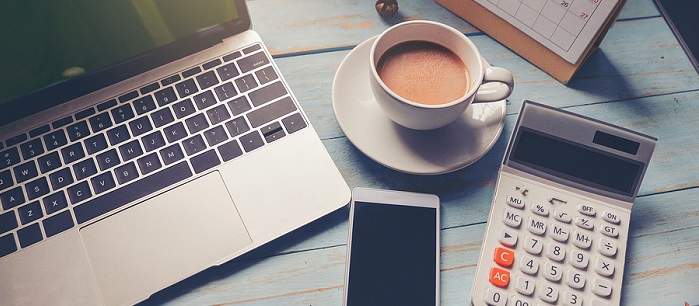 With a large number of businesses who either already have or are planning to implement a strategy for their employees to work remotely, it's becoming more important than ever that employers find a way to ensure the business documents that normally are kept safely in the office are also being stored and managed securely in the employee's home.
Use this video or the transcription below to learn more about what new security responsibilities employees take on when they work from home as well as get a general guide on how employers can handle shredding with details like the best shredding options for remote employees and answers to some of the most common questions that come up with residential shredding.
Video Transcription
Working from Home Means New Responsibilities for Employees
There are countless businesses that either already have employees working from home or are planning to implement new remote working conditions in the near future.  In doing so, besides just adjusting to a change in the working location, there are also other less obvious differences and responsibilities that employees must take on in a remote setting.
Among others, one major change is the fact that employees are now going to be producing secure business records right at home rather than in the workplace, and while at offices there are normally already established storage spaces like file cabinets which in some cases are supposed to be kept locked at all times. Employees working remotely are probably going to have much less secure space to dedicate to storing business documents.
What To Do With Business Documents at Home
Almost like a game of Tetris, when employees begin working from home it becomes all the more important to nail down a system for how they should manage a growing amount of paperwork with only a finite amount of space in their home.
One solution for document management with remote employees is to implement a hybrid strategy where you combine document scanning and shredding. By converting all documents to digital format and destroying the old paper copies, employees can keep all the documents they need at their home without having to throw away potentially important paperwork to save room.
Scanning Plus Shredding: The Perfect Combination
There are three main types of business documents—those that employees need and regularly refer to, those that are designed for one-time use, and those that you're legally required to retain and display after a set period of time—and using a combination of document scanning and shredding can help simplify or provide a solution for how to efficiently manage them all while working at home.
Some Papers You Need to Keep and Use Regularly
While yes, one way to handle clutter is to do a wide-sweeping purge, the unfortunate reality is that if you do there's a good chance you'll be getting rid of documents you still need for current and future work. With a scan and shred combination though, you're able to convert those papers you still need, reducing them to a fraction of the size and allowing you to shred and dispose the space-consuming papers after.
Some Paper Are Single-Use and Can Be Disposed Immediately
Sitting at the other end of the spectrum, paper, like meeting notes or mailed documents may only be intended for a one-time use. In this case, with a scanning and shredding system in place, those documents can be immediately sent to the shred pile and destroyed along with the old physical copies of other documents you've had scanned.
Some Papers You're Required to Store for a Specific Period of Time Based on Various Retention Laws
Various laws like HIPAA in the healthcare industry, for example, require different documents to be stored and retained for set periods of time before they can be destroyed, which hen it comes to employees working from home it can be difficult to individually ensure they're all remaining compliant.
When the records with set retention periods are scanned though, they can be stored digitally in a central online location used by the business instead of being spread out in paper format across the countless employees in home offices as a result making it easier to keep track of retention times.
Then taking another step forward with ensuing legal compliance, when paper copies are shredded, you're given what's called a certificate of destruction which can be used to provide proof of compliance with record retention laws.
Different Options for How to Handle Residential Shredding
There are multiple approaches businesses can take with shredding for employees working remotely. While there are differences between them all such as the cost and how the shredding process works, one thing they all share is how they're ideal for shredding at home.
Mobile & Off Site Shredding
Mobile and off site shredding services send a provider directly to the location—be it a business or a home—to handle shredding for remote employees. While both are a "come to you" type of option, the main difference is that with mobile shredding, a truck with a built-in industrial shredder does the actual shredding right there in the spot as you can watch the full process yourself. And with off site shredding your materials are picked up and transported to an off-site facility to be shredded at a slightly lower price.
Another "come to you" type of service available to employees working from home, with Ship 'N' Shred providers will come to the location to pick up prepackaged materials for shredding. As before it shares the benefit of being a service that comes to you much like with mobile and off site shredding, but what separates Shi 'N' Shred is how it's priced. While with mobile and off site shredding it's a flat cost, with Ship 'N' Shred the final price is based on how much you have to shred in total, potentially making it a better option for smaller shredding projects.
Community Shredding Events
Similar to the idea of scanning documents so that businesses can keep them centrally stored and accessible for everyone, another option for handling shredding with employees who work from home is to organize a shredding event where everyone can come to get their shredding done at the same time.
A mobile shredding truck stays at a location like an open parking lot for a few hours while all employees work remotely are able to periodically stop by and drop off their materials for shredding.
Common Residential Shredding Questions and Concerns
While there's a wide range of inquiries that frequently come up with using residential shredding services for employees who work from home, there are four questions that tend to be the most common:
How Much Does Residential Shredding Cost?
There are two main pricing structures for residential shredding services—with some options the service is a flat fee while with others the price depends on how much you have to shred.
Flat Costs
Mobile Shredding & Off Site Shredding: The cost for mobile shredding can vary from $75-$250 depending on factors like the area you're in for example. Off site is usually the less expensive alternative because it saves providers time when they only have to stop and pick up materials rather than needing to stay at the location to shred.
Quantity-Based Costs
Ship 'N' Shred: The cost for Ship 'N' Shred is based on how much you have to shred. It's approximately $30 for a 30-pound box of paper and $45 for a 65-pound box of paper.
Can I Watch the Shredding Myself?
When you use mobile shredding the provider comes to your location and shreds your materials using a shred truck while you're able to stand and watch the process from the sidewalk.
With off site shredding you can also watch from a closed-circuit TV at the facility; however, this would require you actually going to the location too.
Can I Get Proof of Secure Shredding?
After providers finish the shredding they give you what's called a certificate of destruction which in many ways serves as a receipt for the shredding service.
Certificates of destruction are more formal than the receipt you're given at a register though. For example in the event of a legal dispute, they can be used as proof of compliance with destruction requirements.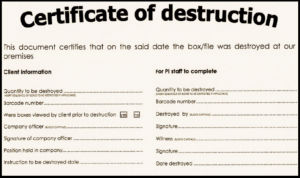 A thorough certificate of destruction will include information such as:
Shredding date
Shredding location
Shredding witness names
Chain of custody details
Serialized transaction numbers for audit trails
Is the Shredding No Contact?
To cut straight to the point, yes, the residential shredding options don't require actually coming into contact with the workers from the shredding service.
With mobile shredding you don't personally need to hand your materials to the provider. Workers wheel the shred bins you use to collect papers out to a shredding truck that's able to lift the bins up and into the shredder by itself.
Similar to mobile, with off site shredding and Ship 'N' Shred you don't need to directly hand your materials to the workers. Instead, both work as a pick up type of service where providers only make a quick stop to pick up your prepackaged materials.
What's Your Shredding Plan for Remote Employees?
Join countless businesses large and small who we've helped to develop and implement a plan for handling shredding with employees who work from home when you visit us at Shred Nations today.
Simply fill out the form, use the live chat option, or give us a call at (800) 747-3365 to receive free, no-obligation quotes from providers in your area.