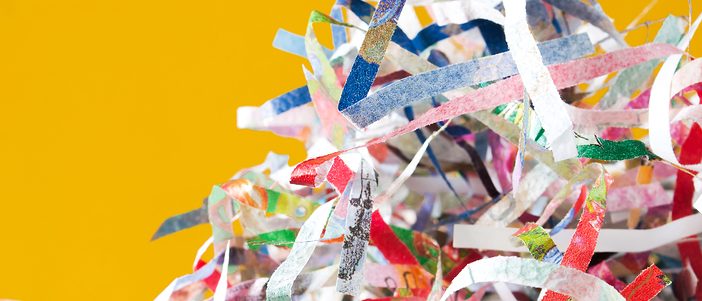 During the time being, the majority of people are stuck at home. However, businesses and individuals still require shredding for their documents. Proper destruction is critical to maintaining protection of your information.
While the majority of workers are at home, this doesn't mean the paperwork and confidential files go away. Additionally, this doesn't negate the importance of data protection and compliance restrictions. It's critical to maintain a high level of protection initiatives.
One of the first questions to ask is how to handle shredding while you're at home. Actually, the answer is simple. There are two main options when it comes to shredding—a one-time purge and Ship 'N' Shred.
Stocking Up for a One-Time Purge
There are two main options when it comes to setting up a one-time purge, including mobile shredding and off-site shredding.
Mobile Shredding
One of the most convenient and cost-effective services is mobile shredding. A mobile shred truck comes to your location to shred files on site. This is ideal for those needing to witness the shredding for compliance reasons or personal preference.
After they are dumped in the shredding compartment, they are shred to bits with no possible recovery. The shredded pieces are then recycled for another purpose.
Off Site Shredding
If you have a large project over 300 lbs, the best option is to use off-site shredding. A truck will come and pick up your documents and take them to an off-site location. Once there, the documents go through an industrial strength shredder for destruction.
Within one-time purge shredding, the method that is best for you strictly based on your projects' size, restrictions, and preference.
However, both options are highly secure. They do vary in their methods of security, but this doesn't diminish their effectiveness. It truly depends on your industry's compliance restrictions on which one might be better for you.
After both shredding methods, you will receive a certificate of destruction. It's a formal document containing specific information about the destruction process. Also, it ensures the destruction of paperwork as well as complete compliance with any laws and regulations. Additionally, this shows the documents were securely destroyed. In addition, it provides prove in the event of legal action or audits.
Many people prefer to witness the shredding process. In addition, some industry require the shredding to be witnessed for extra insurance of destruction. Whether it be for preference or restriction, this helps determine the best destruction method for you. If the shredding doesn't have to be witnessed, the shredding can be performed off site.

Regular Shredding Through Ship 'N' Shred
It's not always convenient to drop off boxes to shred, or maybe there is never enough papers to make it worth it. However, document destruction is a critical step in data protection. Additionally, it's important to perform shredding regularly because of records retention and security restrictions.
Ship 'N' Shred provides a solution for easy shredding and following compliance regulations. You can easily send papers to shred regularly which maintains a clean and secure workspace. Additionally, the process could not be any easier.
Pack It:
Find a sturdy box for your material (new or used). Additionally, you can find a box at a local post office, moving supply stores, or use a box you have lying around. Just keep in mind small file boxes hold 30 lbs and medium boxes 60 lbs. A xerox paper box will hold 30 lbs. Afterward, fill up the box, pack it tightly, and tape the box.
Ship It:
After packing the papers, the next step is to ship. You'll start by going to the Ship 'N' Shred website, and press the start button. After, you will input your shipping and payment information. Additionally, you will provide specific information about your papers and boxes. Then, you will print off the shipping label(s) for each box. You have two options when it comes to shipping. You can either schedule a FedEx pickup (they will come to you), or you can drop it off at a FedEx location within 10 business days (you go to them).
Track It:
Once you ship the boxes, you can track them at any time. After the documents are destroyed, you will receive an email certificate of destruction. This helps provide proof of destruction as well as maintain a proper chain of custody.
What Are the Cost Differences
The cost differences depend mostly on your project size. However, one-time purge shredding is ideal for those with larger projects. On the other hand, Ship 'N' Shred is better for those with a smaller shredding project.
One-time purge specializes in projects of over 90 lbs. Additionally, it's the most cost-effective option for those projects. The average cost for mobile shredding is between $130-$150 for projects up to 120 lbs. However, pricing varies based on location, project size, and more. *Please give us a call for more specific pricing. 
Ship 'N' Shred is ideal for very small projects because the pricing is for shipping. Boxes use standard shipping rates, so the heavier the box the more expensive it will be to send. Using Ship 'N' Shred, paperwork filling around 0-3 boxes (which is up to 90 lbs) costs around $1 per lbs. It's important to consider the quantity before deciding which method.
Interested In Shredding Services? Get Quotes Today
Whatever option you choose, they are all effective and efficient at data protection. It's critical to keep confidential information safe, and document shredding continues to pave the way to ensuring complete data elimination. Shred Nations can help you through the decision-making process as well as help you decide which method is best for you.
Get free quotes on home shredding services by simply filling out the form to your right, giving us a call at (800) 747-3365, or contacting us directly using our live chat.