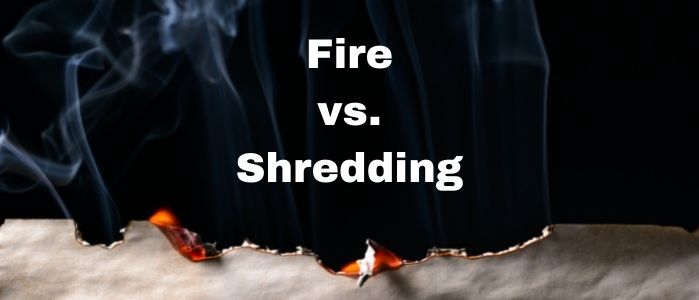 When it comes to handling your secure information, it can be quite a pain trying to find a way to destroy everything in the best way possible. There are plenty of ways that you can destroy your paperwork, but what is the best way for you to make sure that everything is completely destroyed? Some people look into shredding their paperwork, while others will refer to burning it. But is burning your paper safe, effective, or even legal?
Surefire Destruction Methods
What is the safest way to handle your documents? Definitely professional shredding. When it comes to burning all of your paperwork, it can actually be more of a hassle than you would think. Also, having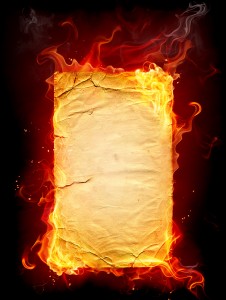 a pile of paperwork catch on fire obviously isn't the safest option. There are heavy fines and penalties for starting a fire, even unintentionally.
We spoke to the Colorado Division of Fire Prevention and Control (DFPC) regarding the practice of burning paper. Not only was this practice deemed extremely unsafe and harmful to the environment, it's also illegal in many states. Please read our full interview with expert commentary, or watch the video for more information.
Fire is Unpredictable, Shredding is a Guarantee
You may be surprised to learn that burning paper doesn't always destroy paperwork completely. Have you ever tried to light a stack of paperwork on fire? It's impossible… You would have to take a couple sheets at a time and crumple them up in order for this process to work out for you. Professional shredding can destroy hundreds of pounds of paper in just minutes. Burning paper can take hours to completely burn, and it must be constantly monitored.
Aside from the amount of time shredding can save you, shredding is compliant with all state and federal regulations including HIPAA and FACTA. It's nearly impossible for oxygen to penetrate tight stacks of paper, leaving information exposed. For every shredding project, you will receive a certificate of destruction. A certificate of destruction can help protect your business in case of legal action or an audit. It will include details from each step of the shredding process; including chain of custody, witnesses, and a time stamp. 
Get Free Estimates on Document Shredding Near You
Give us a call at (800) 747-3365, fill out the form on this page, or contact us directly using our live chat for free quotes on shredding providers near you. You'll receive a free, no-obligation quote in minutes from top professionals in your area.