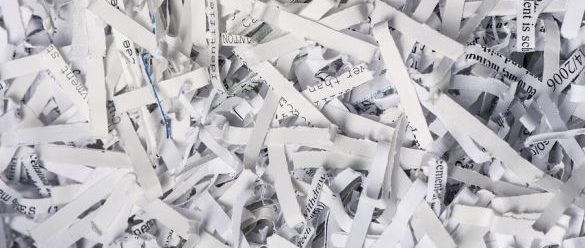 There are several tactics when it comes to information security. From preventative measures to strategies for protecting both electronic and physical files, there are manual and automated processes and varying levels of security.
Here we will focus on one of the most secure protection methods of information protection: cross-cut shredding.
What Makes Cross-Cut Shredding Secure?
Cross-cut shredding is secure for two main reasons:
Cross-Cut Shredding: Size
Cross-cut shredders have two sets of serrated blades that run perpendicularly, so instead of a paper being sliced up into thin strips, cross-cut shredding chops up paper into confetti sized bits.
With cross cut shredding, reassembling a sheet paper requires more than simply lining up a few long strands of paper—you have to match each 2in. X 0.16in bit of paper to the piece next to it, to the piece above it, and to the piece below it.
Compared to strip cut shredding (which is already a secure process), cross-cut shredding goes an extra step further to ensure that papers can't be reassembled by even the most dedicated criminal.
Cross-Cut Shredding vs. Other Security Methods
Compared to other security processes, cross-cut shredding is more reliable. Ink rollers are often used to obscure certain portions of documents, but without careful application and the proper ink, roller stamp markings can be removed.
While other security methods leave room for error, allowing a determined criminal to reassemble paper strips or uncover obscured data, cross cut shredding cuts each 8.5 x 11 sheet of paper into a minimum of 300+ pieces, virtually eliminating the chances of your information being breached.
Find a Secure Shredder Near You
Shredding your documents is the most reliable way to keep your information safe. While strip cut shredding gets the job done, if you are severely concerned about the privacy of your information, ask your shredding provider if they use a cross-cut shredder.
Shred Nations will help you find a secure, reliable shredder in your area. Give us a call at (800) 747-3365 or fill out the form on the right for free quotes from several shredders near you.
If your priority is unparalleled security, ask your shredding provider if they offer a certificate of destruction, or if you can witness the shredding process.