Having trouble deciding which shredding service is right for you? This quick guide covers several types of shredding services, including how they work and how much they cost.
When you find the best service option for you, give us a call and we will match you to the best provider in your area.
Video Transcript
Mobile Shredding
With mobile shredding, trucks equipped with shredders come to homes and businesses to shred documents on site.
Mobile shredding services are ideal for any amount of paperwork up to 300 lbs (3-10 document boxes), and on average mobile costs $100.
How Mobile Shredding Works
Shredding trucks arrive at your requested time and location to shred everything in the bins.

Locking shred bins are provided to collect your documents for shredding.

You receive a certificate of destruction for proof of FACTA and HIPAA compliance.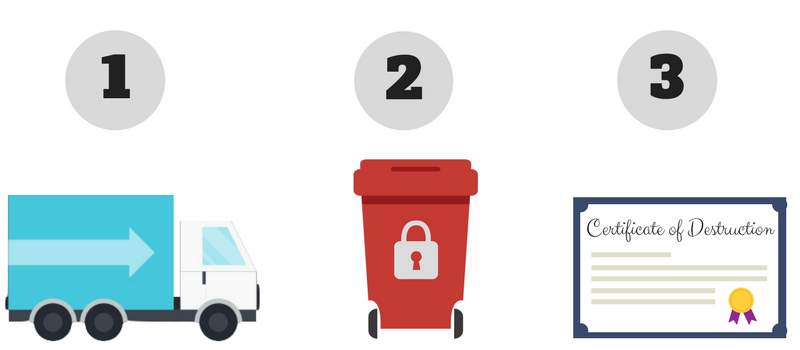 Off Site Shredding
Offsite shredding also offers the convenience of not having to leave the home or office.
A truck comes to your location to pick up documents instead of shredding on site, saving time and providing the most economical price for large-scale shredding
For a similar 10 box, 300 lb shredding project, the average cost of off site shredding is $65-75.
How Off Site Works
Locking shred bins are provided to collect your documents for shredding.

Trucks come to your location to pick up and transport your documents.

Documents are shredded and then recycled at an off site facility.

You receive a certificate of destruction for your records.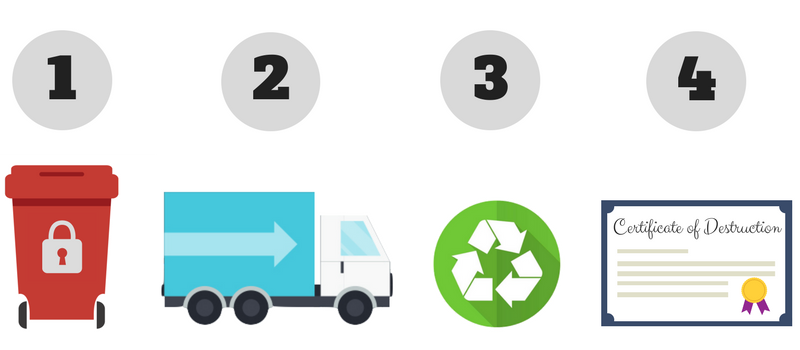 Ship 'N' Shred
Ship 'n' Shred is made for small-scale shredding projects (1-3 boxes) and is as simple as it sounds.
For around $32 per box, Ship 'n' Shred services send a FedEx truck to your home or office to pick up your boxed materials and transport them to a secure shredding plant for destruction.
How Ship 'N' Shred Gives Back
Convenient: in addition to the benefit of having the service come to you, Ship 'n' Shred can be scheduled and tracked online and you're emailed a Certificate of Destruction

Security: destruction is done at HIPAA and FACTA compliant off site shredding facilities and a Certificate of Destruction is provided with the security details

Cost: unlike a large-scale project with flat costs, Ship 'n' Shred pricing is based on paper quantity, meaning you pay only for what you need to shred
Drop Off Shredding
Like Ship 'n' Shred, drop off shredding is best for projects between 1-3 boxes, but because there's no pickup involved it's less expensive.
On average a drop off shredding location charges $1 per pound, meaning if you have one box of paper (roughly 30 lbs) it would cost $30 to shred your documents.
How Drop Off Works
You're given a locking shred container to store what you're dropping off

Your materials are weighed and a price is given based on the location's pricing per pound

Trucks make regular stops to collect and transport dropped off containers to a shredding facility

Papers are co-mingled with other materials before being shredded and recycled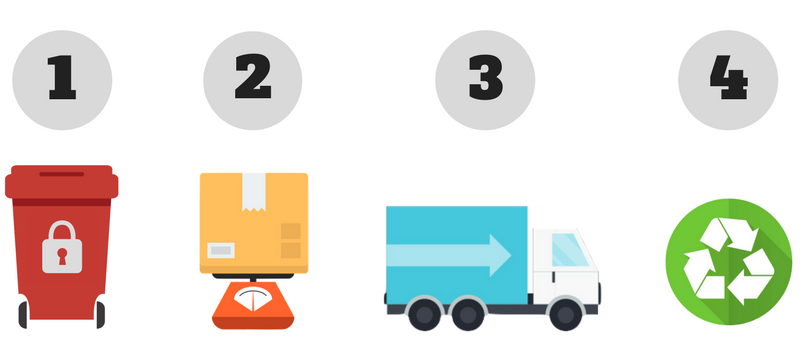 Potential Cost Factors
For the most part, the cost of shredding services themselves don't change.
If there are other outside factors to consider though, these can impact the final price.
Of these considerations, the most important to keep in mind when planning your project are material quantity and your location.
How Much Do You Have to Shred?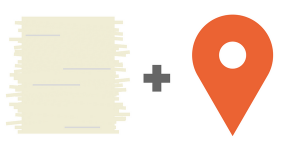 While drop off and Ship 'N' Shred costs scale with paper weight, mobile and off site costs don't change.
When looking to find the most cost-efficient shredding strategy, it's important to consider how much you have to shred.
Since mobile is $100, drop off shredding is cheapest if you have less than 100 lbs. On the other hand if you have 250 lbs, drop off would cost $250 while mobile shredding would still be $100.
Where are You Located?
Besides quantity, proximity to a shredding provider is also a cost factor.
Pricing for pickup services takes into account the distance traveled, meaning that services could be slightly more expensive for those living in city outskirts or rural areas.
Comparing Shredding Options?
Join in with Apple, Amazon, and a range of other companies we've helped find the best shredding solution to suit their needs.
We are a shredding marketplace designed to help you find the best shredding service for your unique needs at a fair price.
Call us today at (800) 747-3365 or fill out the form on the right for a free quote on shredding services near you.