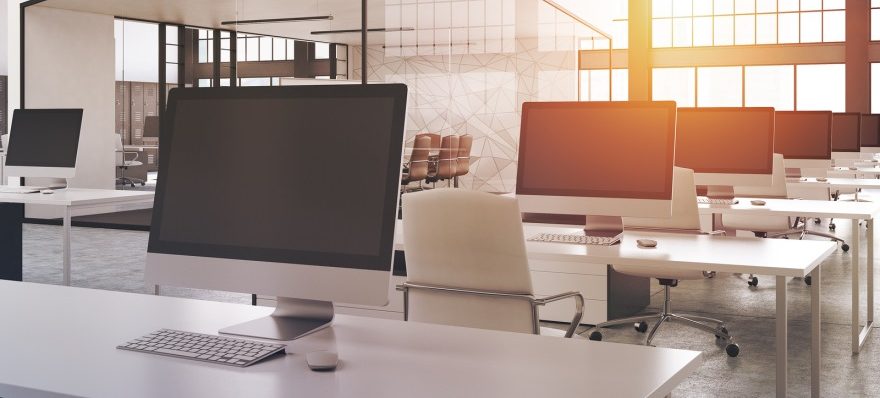 Clean desk policies ensure a tidy, professional, and secure office. Learn about why more office buildings are enforcing clean desk policies and how your business can benefit from one.
Watch the video or read the transcript below to learn more.
Video Transcription
What Is a Clean Desk Policy?
A clean desk policy is as easy as it sounds—it requires all employees to end their day with a clear desk.
Items to be sure are safely stored include all documents, removable media like USB sticks, and post-its or any other notes.
Why Clean Desks Are Important
Among others one of the most valuable aspects of a clean desk policy is its security benefits.
By keeping sensitive information organized and off desks, you're able to reduce and prevent risks such as employee theft or negligence.
Top 4 Benefits of Clean Desk Policies
Implementing a clean desk policy gives businesses the opportunity to enjoy multiple benefits, including:
Security
Productivity
Compliance
Appearances
The Benefit of Security
According to recent studies, as much as 50% of data breaches come from the inside.
By always keeping sensitive papers and computer files securely stored with a clean desk policy, you're able to cut back on the chances for employee negligence or theft.
Boosting Your Productivity
Clean-desk policies have a valuable impact on cost and worker-efficiency by reducing the time employees spend tracking down documents.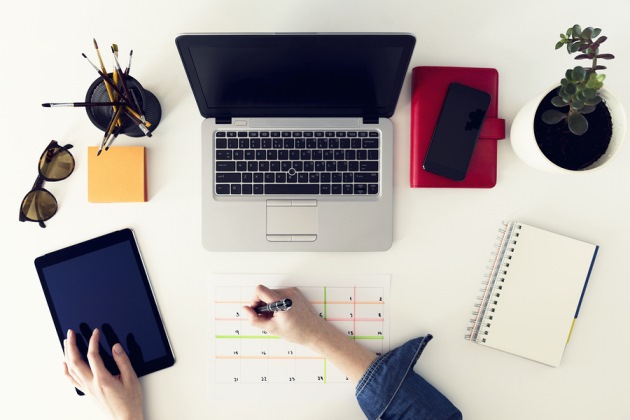 A 2012 study by IDC found that on average workers spend 4.5 hours searching for files per week, which over time can add up to serious financial problems.
For example if the average salary for employees is $80,000, a $1,000 person company would be losing $9 million per year as a result of a disorganized document management system.
Simplify Regulatory Compliance
Keeping important information organized and secure helps you to stay on top of your document management and destruction.
By decluttering the workplace, this in turn helps to simplify managing record retention policies along with ensuring compliance with privacy protection regulations like HIPAA, the GDPR and ISO 27001.
Keep Things Clean
It may not be critical to operations, but the appearance and general cleanliness can also have an indirect impact.
By decluttering the office, it helps to present a sense of professionalism and make a better impression on visitors, clients, and auditors.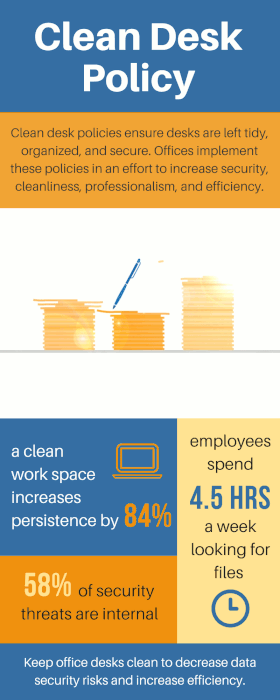 Implementing Clean Desk Policies
Evaluate Storage
Simplify clean desk policies and improve security by storing only what's necessary to keep on-hand. For confidential information or files used for record keeping consider storing them in an external location.
Encourage Electronics
Electronic documents need only a password for protection and can simplify a clean policy by simply reducing the total number of hard-copies taking up space and needing to be organized in the first place.
Dispose Information Securely
Once a document is old enough to be thrown away instead of re-filed in order to keep desks clean, it's also important to be sure you discard information safely. To prevent employees or dumpster divers sifting through trash for documents it's a good idea to implement a document destruction policy as well.
Have a Clean Desk Policy Already?
Join Apple, Amazon and other companies we've helped to store, shred, and scan documents for their clean desk policies.
Keeping your office tidy is important, but make sure you responsibly dispose of your files. Get free quotes on secure shredding services near you and keep your customer and client data safe.
Call us at (800) 747-3365, fill out our form, contact us directly using our live chat to get started.