Over a period of time it's not hard for documents to accumulate. Whether they're stored in filing cabinets or in file boxes, as the number of papers begin to stack up with new documents you receive, create, and print out each day, eventually the old documents and papers will need to be disposed.
When it comes to residential shredding, most people turn to drop off shredding. It's quick, it's easy, and it's affordable for small scale residential shredding, but what about when you need shredding for more than a few documents?
That's where mobile shredding services come to the rescue. Offering many of the same advantages as drop off when compared to doing the shredding yourself, having a mobile service that comes straight to you can offer additional benefits as well.
Among others, below we highlight the top three reasons why homeowners and individuals should consider a mobile shredding service for your residential shredding needs.
Affordable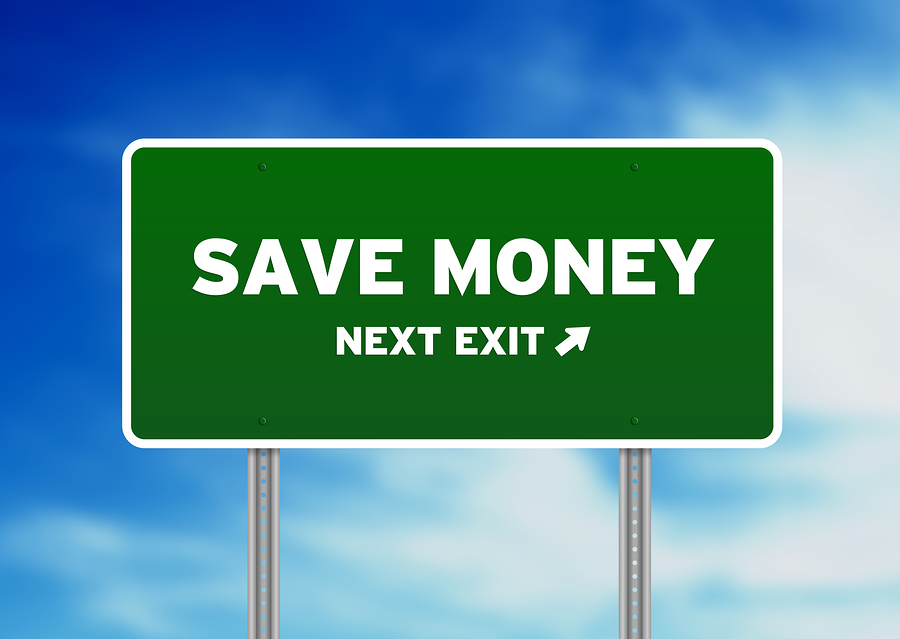 Considering the risks for identity theft and fraud from throwing away sensitive documents without destroying them, files and papers should be shredded to protect the important information they might contain.
Despite this though, whether it's healthcare, plumbing, or any other service, everybody wants to find the best prices for quality services—and with mobile shredding, individuals can get exactly that.
With mobile services, as much as 300 lbs of paper (standard file boxes weigh roughly 30 lbs) can be shredded for just $100, whereas with drop off services that usually charge around $1 per pound, shredding the same amount would cost $300.
If you need to find out how many boxes you have to shred, you can also use our paper conversion calculator to get a better estimate.
But what if you don't have more than 100 lbs of paper to shred? There's a solution for that too—otherwise known as community shredding events. Here, members of your community—whether in your neighborhood, local church, or nearby businesses—can work together to take advantage of mobile shredding services.
The cost of services can be broken up amongst participants to make mobile shredding even more cost-efficient, and the best part is it only takes picking a date and location for the event and having everyone simply show up and drop off their documents for shredding.
Convenient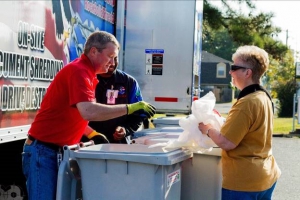 While drop off shredding offers an ideal way to make shredding documents both easier and faster, mobile can also offer these benefits—but with the additional advantage of convenience as well.
Rather than hauling your documents out and stopping in at a drop off location on the way home from work or while you're out running errands, mobile shredding services come directly to your curbside.
All it takes is scheduling a date, picking a time, and from there, the rest is taken care of.
Handling all the shredding for you, mobile shred trucks are equipped with onboard industrial shredders—capable of shredding as much as 20,000 pounds of paper per hour—and can make shredding virtually any amount of documents you have a five minute project.
Secure
Mobile shredding services offer improved document destruction security throughout the shredding process from beginning to end.
From the get-go, mobile shredding works to make the pre-shredding stage more secure by providing locking shredding bins to store documents while they await shredding—in turn helping to ensure sensitive information doesn't have the opportunity to be stolen, lost, or misused before it's safely destroyed.
Once it comes time for the actual shredding itself, the mobile shredding process also takes several additional steps to tighten its security. As just one example, mechanical arms lift the shredding bins and dump their contents into the shredder much like garbage trucks, meaning shredding providers never come into contact with documents before they're shredded.
Furthermore, during the process, you're able to personally witness the shredding, helping to provide additional assurance that documents remain secure throughout each and every step of the mobile shredding process.
To top it off, once the process is complete your shredder provides you with a certificate of destruction—guaranteeing the service was compliant with federal and state destruction laws like HIPAA and FACTA.
The certificate of destruction includes all the basic information for your shredding project and service such as the date, location, and amount of documents shredded, as well as specific details including transaction codes, chain of custody information, and other particulars.
Looking for Mobile Services for Your Residential Shredding Project?
When you need to shred your personal documents but don't have the time to do it yourself or take it to a shredding location, mobile shredding services provide a great alternative—sitting right at the crossroads between convenience, cost-efficiency, and security.
At Shred Nations, we partner with a nationwide network of mobile shredding providers located across the country and throughout its cities both large and small—striving to connect you with the secure and reliable shredding services you need at the prices you want.
To get started with scheduling a mobile shredding provider for your project or for more information on our services, just give us a call at (800) 747-3365 or simply fill out the form to the right for free and personalized mobile shredding quotes from local providers in your area.