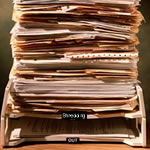 With all the new privacy laws requiring certified shredding, many offices have seen their pile for shredding growing higher than their desks. You can either hand off the work to a low level employee who should never have contact with the information or look to a certified shredding service.
A professional shredding service not only allows you to focus on your job but provides you with the documentation to prove compliance with privacy laws.
Shred Nations has been swamped recently with requests to start new shredding service. We understand that when you start you research it seems like shredders are speaking in code. To help you out we have compiled a list of the basic questions that you will need to be able to answer to get an accurate quote.
Is this recurring service?
Are you cleaning out your storage area and need to purge your expired files or do you need a shredding bin(s) placed in your office and serviced on a regular schedule. If you only need shredding every year it is still considered just a purge.
How much do you have?
The easiest way to answer this question is to consider how many file boxes you have. A file box holds 30 pounds of files. The contractor doesn't need an exact count but the more accurate your estimation the more accurate your quote.
What type of material do you need shredded?
Most shredding services handle a variety of materials. You may only have files but many people are looking for hard drive shredding, product destruction and magnetic media. These materials require different methods of destruction and will alter the quote.
Do you want on-site shredding?
This question causes a great deal of confusion. All shredding services come to your location and pick up your material for shredding. A better way to ask this question is, can we take the material back to our plant in locked bins or do you wanted it shredded in your parking lot (mobile shredding)?
They are both secure methods for shredding and cover you under all existing privacy laws. It is generally less expensive to shred it at a central location but some businesses still choose to pay the premium to have it shredded at your location.
Is there ground floor access?
Is the material on the ground floor or do you have elevator access. There are additional charges when boxes have to be carried up the stairs.