Mobile shredding is one of the most useful services that we provide. The funny thing is that we get lots of questions about what mobile shredding really is. There's a difference between bringing documents to a shred-a-thon and hiring a mobile shredding service for your business or for your own personal use. The more paper you have, the more of a hassle it will be to get rid of it.
Not only do your boxes of documents contain personally identifiable information, they're tremendously heavy. When just one box of paper weighs 30 pounds, wouldn't it be easier if you could somehow have the shredder come to you?
This article will help clear up what mobile shredding really consists of, why you need secure containers, and some alternatives to mobile shredding that might work better for your shredding project.
What Is Mobile Shredding?
Mobile Shredding helps you to maintain a shredding schedule for a business or offers an easy-to-use service that gives a homeowner that has lots of documents to shred a cost-effective solution.
It's a little different from dropping off documents to be shredded. First, you request a quote from a mobile shredding company. Once you decide on the provider that's right for your business, they provide secure, locked shredding bins where you store your documents until they need to be shredded.
Then, your shredding provider will schedule a time for a mobile shredding truck to come out to your home or your office to shred the documents right there while you watch.
Mobile shredding is a hassle-free way to take care of your document shredding quickly and efficiently, providing you with a service that allows you to watch your files being shredded in front of you. It's a secure solution for your shredding needs, and it eliminates multiple steps of the shredding process.
Why Do I Need Secure Containers If I'm Using a Mobile Shredding Service?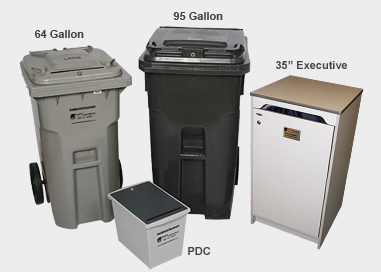 Mobile shredding gives you an option that reduces the chance of documents that are past their useful life getting in the hands of corporate spies or identity thieves—but there's a lot of ways that documents that aren't shredded appropriately can literally destroy your business.
Shredding bins help protect sensitive information for companies and individuals until final destruction can be completed.
By locking these documents in a shredding bin, you are reducing the chance of someone taking proprietary information, of misplacing confidential or private documents and file, or secure documents being read or taken by employees that don't have the proper clearance.
How Much Does Mobile Shredding Cost?
Mobile shredding services are more practical for larger shredding jobs because it's less expensive than taking them to a facility—especially if you have more than a couple of boxes.
Most mobile shredding companies charge a fee based on how many pounds of paper or number of boxes you need to shred. If you have more than three boxes of paper, mobile shredding is a great option for you- and you don't have to deal with dropping off your documents when you can.
For any amount of paperwork up to three hundred pounds (approximately 10 boxes), you are looking at right around $130 or more.
Are There Alternatives to Mobile Shredding?
Drop Off Shredding is where an individual or a company takes boxes or trash bags full of documents to a retail location to be shredded and recycled. The drop off location takes the documents and places them into a secure bin, and a shredding service stops by at regular intervals to shred them. You're usually charged by the pound, and a standard banker's box full of documents weighs around 20-30 pounds.
Off Site Shredding The only difference between onsite and offsite shredding is that in offsite the paper is collected at your location in the secure containers and then taken to a shredding plant where they will be shredded at a later time. This is usually a cheaper alternative to mobile shredding since the truck doesn't have to spend the time to stop at the location and do the shredding on site.
Get Free, No-Hassle Quotes On Mobile Shredding Services Today!
Shred Nations specializes in helping you find the mobile shredding contractor that's right for your businesses regardless of the size of the job. To get started with free, no-obligation quotes on shredding services, just fill out the form to the right, or give us a call at (800) 747-3365.
Within minutes of receiving your request, you will receive quotes from local mobile shredding contractors so that you can select the company that fits your project or your office best.