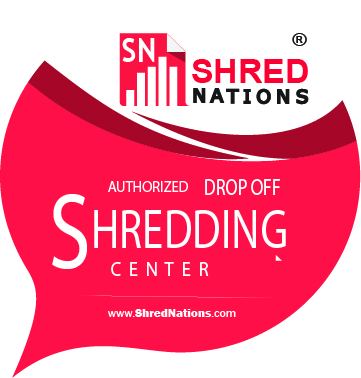 Drop Off Shredding is becoming one of our most popular options for folks who have a small amount of documents to shred, but can't justify bringing out a mobile shredding truck to their office or their home to shred their documents while they watch.
If you just have a few boxes of paper you need to shred, a drop off location is a cost-effective option. Each location usually charges by the pound, and a standard banker's box full of documents weighs around 20–30 pounds.
If you have a large amount of documents (100+ pounds, or enough to fill three file boxes), then the easiest and most affordable solution is a mobile shredding service.
What Happens When I Drop Off My Documents?
Our nationwide network of drop off locations gives you the ability to bring your documents into a retail location. First, your documents are weighed and you're charged by the pound. Next, your documents are placed into a secure, locked shredding bin. This bin cannot be opened by anyone but the contractor who will shred the documents.
Finally, a secure shredding service stops by each location at a regular interval to take the bins to their off site shredding facility for shredding and recycling.
Preparing your Documents for Shredding at a Drop Off Location
Think drop off shredding is the right service for you? Here are a few tips to make sure your shredding goes smoothly:
Tip #1: Don't Sweat the Small Stuff
The industrial-size shredders that our providers use can take care of staples, paper clips, and bindings. There's no need to remove these from any of your documents. Once you collect all the documents you would like to shred, just drop them into the secure shredding containers as–is!
Tip #2: No Need to Separate or Organize
Although you need to be sure you go through all the documents you plan to shred beforehand to be sure you aren't violating retention laws. There is no need to organize your documents by paper type, thickness, or category. Papers can be brought in regardless of whether they're clipped or stapled. Since the bins you put your documents are never opened until they're shredded, just figure out the best way to transport them, and you'll be good to go.
Tip #3: Be Sure to Know What You Can—and Can't—Shred
Although shredding services can shred virtually anything, when you're using a drop off service, some items can't be mixed in with the stuff you're planning to shred. Before you head their way, give the drop off location near you a call to see what they can and can't accept. Some common items that aren't usually accepted are newspapers, magazines, and phone books.
If you have secure documents or files like medical records, or have hard drives or other computer data medial that needs electronic media destruction, be sure to utilize the proper channels to ensure your data is completely and securely disposed of.
Using Shred Nations to Find the Closest Drop Off Location to You
Here's a quick outline of how you can utilize our drop off service:
1) Click on the Locations link on our Main Navigation:

2) This will take you to our main drop off page.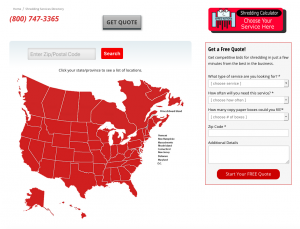 You can request a quote immediately or start your search for a drop off location near you. There are two options you can use to find the location nearest you:
Use the zip code search to find drop off locations in a more specific area
You can also click on any of the states on the map to visually search for drop off locations
3) Once you enter in your information, you'll see this page. It gives you the locations that are closest to you. Click on 'Visit Site' to see the individual pages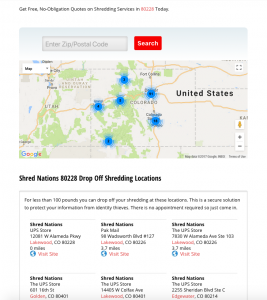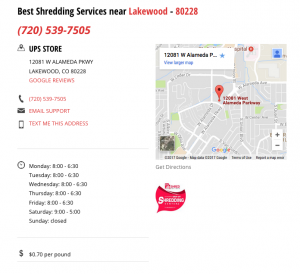 4) Here's the location page. Now that you have selected your location, this page will show you this location's hours, pricing, a map of where the location is, and you can even text the address to your phone.
It's that easy! If you have questions, you can always give us a call at (800) 747-3365.
Not Sure What Service You Need? Shred Nations Can Help!
Shred Nations specializes in helping you find the right shredding solution for your needs no matter what size project you have. To have our experts help your figure out the best solution for your project, fill out the form or give us a call at (800) 747-3365 today.