When looking into ways to dispose of and recycle your hard drives and electronic devices, you have probably researched formatting, degaussing, and hard drive destruction. Though all can be used to help protect your private data, hard drive destruction is proven to be 100% effective and is packaged to include recycling.
Learn more about your options and why hard drive destruction and recycling go hand in hand in the following video and transcription. We will cover the importance of recycling electronics, the process of destruction and recycling, and the benefits of combining the two.
Video Transcription
Where Hard Drive Destruction & Recycling Intersects
When it comes to hard drive disposal, you have three main options – destruction, degaussing, and formatting.
There are some major differences between them. In terms of security, there's a chance for software to be used to recover the data before the drive is disposed. In terms of recycling, degaussing a hard drive will completely destroy it. However, a degaussed hard drive can't be recycled.
That's where hard drive destruction comes into play. Like degaussing a drive, destruction will leave 100% eliminate the data. Unlike degaussing, the raw materials from shredded drives can still be recycled. Rather than creating a "this or that" type of decision, recycling is apart of the final stage of the destruction process for free. This helps to give you the best of both worlds.
Why Responsible Destruction & Recycling is So Important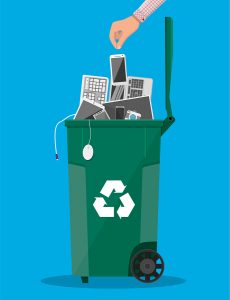 Additionally, electronics contain hazardous chemicals. As electronics become more and more prevalent today, the amount of hazardous e-waste is also rapidly growing. In many states, laws are in place to prevent hard drives and other electronics from ending up in landfills. This gives an additional legal incentive to recycle e-waste safely.
In addition to hard drives, there are a wide range of other electronics which require safe disposal and recycling, including:
Computer towers
Scanners
Printers
Fax machines
Computer equipment
Ink/toner cartridges
The Hard Drive Destruction and Recycling Process
The hard drive destruction and recycling process consists of 4 main steps:
You collect and schedule a service:
The process initially starts with scheduling a service date and collecting your hard drives for destruction and recycling. On average, hard drive destruction costs anywhere from $7 to $20 per hard drive. When the quantity goes up, the price per drive will go down.
Providers shred hard drives either on or off site:
On the scheduled destruction date, a truck will come to either destroy the hard drives on site from your curbside or pick them up and take them for destruction at an off site facility.
Additionally, it depends on your needs on which one is best for you. If you need to witness the shredding, onsite is the way to go. If you opt for offsite, you can potentially cut costs because the extra time I eliminated, and it no longer necessary to destroy the drives at your location.
Providers recycle the raw materials from drives:
The hard drive destruction process is followed by recycling the materials left over from shredding drives. All recycling is done in accordance with EPA and state standards in order to safely dispose hazardous electronics waste.
You're provided with a certificate of destruction:
Once the hard drive destruction and recycling process is finished you're provided with a formal certificate of destruction to prove security was up to snuff. A certificate of destruction includes details like chain of custody, where and when the service took place, and witness names.
Benefits of Combining Hard Drive Destruction & Recycling Services
Free Hard Drive Recycling

One of the benefits of hard drive destruction services is how they recycle the leftover materials afterwards. Additionally, it's a package deal that can save on potential recycling costs. Also, it can cut back on the time it takes to have hard drives safely disposed and recycled.
100% Secure Data Disposal
When it comes to hard drive disposal – especially with increasing numbers of data breaches and identity theft – ensuring the data on the device is securely destroyed is always a top priority.
There are three main ways to remove data from a hard drive – destruction, degaussing, and formatting. However, only hard drive destruction can provide 100% security and the ability to recycle materials after.
Have Hard Drives to Destroy and Recycle?
Join countless other individuals and businesses who we've helped to find safe and environmentally-friendly hard drive disposal services when you visit us at Shred Nations today.
Fill out the form, give us a call at (800) 747-3365, or contact us directly with the live chat to get started with your hard drive destruction and recycling project today. We have a network of professional providers that can assist you in your area today.