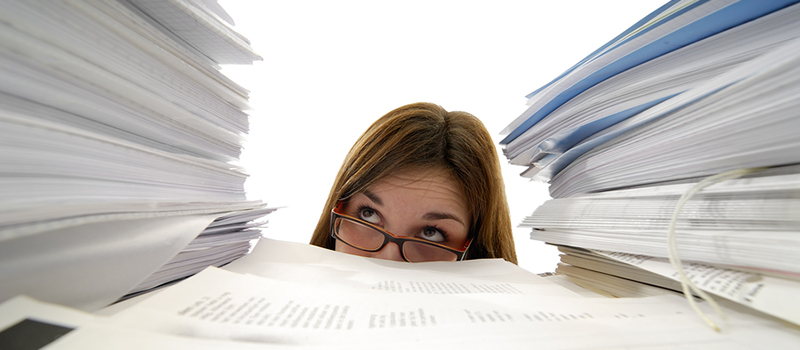 Over time, your office accumulates stacks and boxes full of paper that need to be shredded. Eventually, there's too much to hide under desks and in closets. A shredding service can help alleviate some of the clutter around the office. The next thing to decide is if you should choose one-time shredding or scheduled shredding services.
Other times, maybe your office produces some material that needs to be shredded, but it hardly feels like enough to warrant hiring a shredding service. Sound familiar?
Depending on a business' size, the amount of shreddable material that gets produced can vary from tens of thousands of pages each week to just a few hundred. Given how many shredding options there are, it can be difficult to choose which service is best for you.
Defining One-Time and Scheduled Shredding
There are two main options for choosing how frequently to have your documents shredded: one-time shredding or scheduled shredding.
What is One-Time Shredding?
One-time shredding is scheduling a shredding service to shred a large amount of documents on a one-time or as-needed basis. In other words, you have to re-schedule the shredding service each time you want to use it.
One-time shredding services can be scheduled at drop-off locations. Or, if you'd prefer to witness your documents being shredded, a mobile shred truck can drive to your location.
What is Scheduled Shredding?

Schedule shredding is when you work with a provider to set up a regular shredding schedule.
You can arrange to have your documents picked up once a month, once a week, or more often if necessary.
Using scheduled shredding services allows you to take advantage of secure shred bins.
Additionally, these tamper-proof bins collect your sensitive paperwork in between scheduled visits by your scheduled shredding provider.
How to Decide Which Service Is Best For You
Deciding whether one-time or scheduled shredding is best for you depends on how many documents you produce that need to be shredded.
In general, if you create a lot of paper in a short amount of time, using regularly scheduled shredding is the best way to keep your shreddable documents under control.
On the other hand, scheduling a one-time shredding is more efficient and cost-effective if it takes you several months to generate a significant amount of material that needs to be shredded.
Need to Set Up a One-Time or Scheduled Shredding?
Shred Nations partners with secure and convenient shredding services nationwide. To get started finding the right service for you, fill out the form on the right or give us a call at (800) 747-3365 for a free no-obligation quote on shredding services in your area.