Shredding your sensitive files is necessary. Choosing the right service can save you big money. But how do you choose?
This article compares drop off shredding services and mobile document shredding services to help you understand which service best meets your needs. We include information regarding the volume of documents you have, what your security requirements are, and how much you are willing to pay.
Watch the video or read the transcript below to learn more.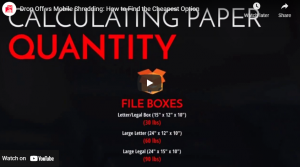 Video Transcript
Finding the Best Bang for Your Buck
There are several different ways to shred, and finding the most cost-efficient option depends on your individual project needs and goals.
For example, if you're someone who constantly has documents to shred, saving up paper for a mobile shredding solution can be a good option for you to not only save money, but also to save the time shredding can take.
If you don't expect to have 100 pounds of paper anytime soon, skipping scheduling and dropping off documents at a nearby drop off shredding location is likely the cheaper strategy.
Drop Off vs Mobile Quick Comparison
Drop off (walk-in) is ideal for shredding projects under 100 lbs. Usually drop off shredding locations can take up to three bankers boxes worth of paper and charge by the pound.
Mobile shredding is geared for larger shredding projects. Mobile is a flat cost for service no matter the paper quantity, and can typically handle 100-300 lbs.
Drop Off vs Mobile Advantages
| | |
| --- | --- |
| Drop Off Advantages | Mobile Advantages |
| There's always a drop off location nearby with over 5,000 locations in UPS and other packaging stores throughout the US | Mobile conveniently comes to you—instead of taking papers in or shredding yourself, shredding trucks can come to save you time |
| No scheduling is required—like the names implies, you can drop in on your schedule, and it's fast enough to be only a 5 minute stop | You witness shredding when it's done onsite—whether for legal needs or personal assurance, mobile shredding is the most secure option |
| You pay only for what you shred rather than flat pricing—when you don't have too much to shred, you won't be paying much either | Costs don't scale with the size of the shredding project—from 1lb up to 300 lbs, the price remains the same |
| Drop off prioritizes security—while you don't see the actual shredding, you drop off your papers in locked shred bins | Mobile shredding's securities make it ideal for negotiable instruments like blank checks, certificates, and promissory notes |
Service Based on Quantity: One Size Doesn't Fit All
Drop Off Shredding
On average, drop off shredding locations charge $1 per pound. It's recommended that you drop off anything up to 100 lbs to get the most for your money.
After that, the shredding price will continue to increase with quantity when dropping off, while mobile shredding costs will stay the same.
Mobile Shredding
Mobile shredding typically costs around $100. Once you have 100 lbs of paper or more, mobile shredding becomes most cost-effective.
Mobile shredding can handle up to 300 lbs of paper for the flat $100 price, which compared to a $300 dollar drop off project makes a mobile service a much better deal for larger volumes.
Calculating Paper Quantity
Type of Container
Container Size
Amount of Paper
File Cabinets

Vertical File Cabinet 24" Drawer

1 box (30 lbs) per drawer

Horizontal File Cabinet 30" Drawer

2 boxes (60 lbs) per drawer

Bags

Black Plastic Yard/Leaf Bag

1 box (30 lbs)

Tall White Kitchen Bag

1 box (30 lbs)

File Boxes

Letter/Legal Box (15" x 12" x 10")

30 lbs

Large Letter Box (24" x 12" x 10")

60 lbs

Large Legal Box (24" x 15" x 10")

90 lbs

Pallets

4 Rows High (4 ft)

50 boxes (1,500 lbs)

5 Rows High (5 ft)

60 boxes (1,800 lbs)

6 Rows High (6 ft)

72 boxes (2,160 lbs)

Bins

64 Gallon Bin

7 boxes (210 lbs)

95 Gallon Bin

10 boxes (300 lbs)
The Cheapest Option: Finding the Intersection
At a certain point, the costs for drop off and mobile shredding interest, and this is where your paper weight comes in.
When you have little to shred, drop off shredding can save $75+ compared to mobile, but once your paper weight crosses the 100 lb point then it's time to consider a new tactic.
This crossroads is where the scaling price of drop off to match paper weight becomes a disadvantage. As the size of your shredding project grows, savings can grow as large as $200 per job.
If you're constantly needing to shred, saving your paper for the max 300 lbs may be something to keep in mind to get the most for your money.
Figured Out Which Shredding Service is the Best Bang for Your Buck?
Have you decided on the best solution for your project? Find nearby drop off shredding locations with our store locator, fill out the form on the right for free quotes on mobile shredding services in your area, or give us a call at (800) 747-3365.
We partner with trusted document destruction providers across the nation, and work hard to help you find the right solution for your shredding needs. Shred on!