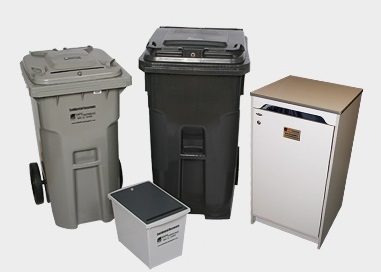 You have cleaned out a bunch of files, and now you need to safely dispose of your sensitive documents.
This video and transcript below explain how to find a drop off shredding location along with its advantages over other forms of document shredding services.
Video Transcription
Drop Off Shredding Defined
Drop off shredding services give you the inexpensive option to bring your documents into a nationwide network of retail locations.
On average, drop off locations charge $1 per pound, making it ideal for shredding 1-3 boxes of documents (up to roughly 100 lbs).
Because of drop off's per pound pricing, if you have more than 100 lbs you might want to consider mobile shredding services, which can handle up to 300 lbs for $100.
You're provided a locking drop box to drop off the documents you brought in, and once you've paid, your shredding is done.
Trucks make regular stops to pick up the papers that have been dropped off at the location and take them to a shredding facility for you.
What Happens Once I Drop Off Documents?
When you bring in documents, you're first provided with a locking shred container to store the papers you're dropping off.

Next, your documents are weighed and you're given a price based on the location's pricing per pound and your paper's weight.

Afterward, yours and other customers' shredding containers are picked up by trucks that make regular stops at the location to take documents to an offsite shredding facility.

Last, the truck drops your documents off along with papers picked up by other trucks that have visited other locations where they are finally shredded and recycled.
Preparation Tips For Drop Off Shredding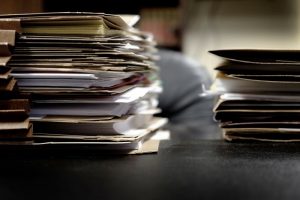 Before taking your papers to a drop off location, there are a few things to consider first.
Know How Much You Have to Shred
Drop off shredding costs work as a price per pound service, and typically locations only accept a maximum of 100 lbs.
On average, a standard file box weighs 30 lbs and holds 2,000-2,500 sheets. Calculate weight and paper amounts for other storage containers here.
Know What You Can and Can't Shred
Industrial shredders can handle most anything but there are some things that a drop off shredding location can't accept, such as newspapers, magazines, and phone books.
To be sure, it's often recommended you call the location ahead of time.
Don't Worry About the Little Things
Industrial-sized shredders used for drop off shredding can take care of staples, paper clips, and bindings.
That means that once you've gathered up all your documents, you can simply drop them off as-is.
No Need to Organize or Separate
If you have papers of different sizes, thicknesses, or just mixed together in a trash bag, don't worry about sorting things out since an industrial shredder doesn't need to be fed page-by-page like a personal shredder.
Finding Drop Off Locations: Getting Started

The US is a big place, and to begin searching for the closest drop off shredding location you can start with narrowing down by state using the interactive map.
If you're ready to cut right to the chase, you can also enter a zip code directly to search for more specific locations.
Finding Drop Off Locations: Selecting Your Location
After selecting a state there are 3 options to search for nearby drop off locations more precisely:
Zip Code: available for those searching for a specific location or in their immediate area
Maps: browse through locations across your state with interactive maps to zoom in and out
Location Listings: besides zip code or map searches, a full list of local drop off locations in the area is also available to search manually
Finding Drop Off Locations: Getting Specific Information
Once a drop off location is singled out, all the information you'll need can be found on the location page, including:
Location address

Hours

Pricing

Phone and text me tool for later reference

Map to see location down to street level
Need Document Shredding Services Sooner Rather Than Later?
Drop off your documents in a secure lock box and take care of your shredding in a matter of minutes when you visit us at a Shred Nation drop off location today.
To find a participating drop off shredder near you, give us a call at (800) 747-3365 or use our nationwide directory.