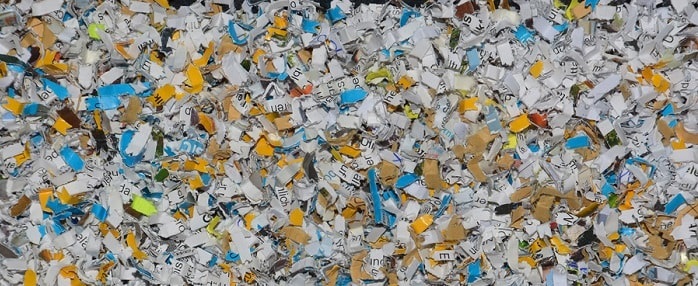 With off site storage, your papers can also be shredded once they're no longer needed, helping to transform your office document management into a fine-tuned machine by combining off site storage and shredding services.

Video Transcription
Where Do You Store What You Regularly Shred
Although more businesses are shifting towards paperless management, hard-copy records are still a reality in the modern workplace.
Whatever the reason may be for keeping paper copies, it's standard practice to shred documents with sensitive information, but that begs a new question—what're the best practices for storing records before you destroy them?
Top Reasons Why Companies Use Storage
Legal—HIPAA, FACTA, and other laws have strict requirements for how long specific information must be kept. To keep better track of records and utilize space more efficiently, many offices store inactive files at an offsite facility.
Space—Office real estate is a valuable commodity and every business wants the best bang for their buck. Storing records offsite can open up precious space for more productive purposes.
Secure—Storing records in the office, especially for a long time, exposes them to risks like environmental hazards or theft. In past studies, as many as 20% of breaches have been caused by insider misuse. You will receive a certificate of destruction once your records have been shredded.
Time—

10 to 15 minutes per day filing records might not seem like much time, but multiplying th

at by the number of employees and over the course of a year leaves a large bill to pay—a cost that offsite's quick retrieval services wipe away.
How Storage and Shredding Services Work Together
Storing your inactive files and other records at an offsite facility comes as a package deal.
One of it's most attractive advantages is the fact that once stored, you never have to worry about shredding again since providers will do it for you as part of their storage service.
Some facilities have an in-house industrial shredder while others partner with a service, but when it comes to factoring in shredding and disposal costs, the bill falls to storage providers instead.

Offsite Storage and Shredding Benefits
Convenient—

On top of coming to your location to pick up files, providers can also get any records you need fast with quick retrieval services.

Besides just storing and accessing records, providers will track your retention times for you while your records are stored. And when you want them shredded, they can handle that too.

Cost-Effective—

Keeping records offsite removes a range of costs. In the office, it frees up extra space to use for more useful purposes and eliminates the time wasted by employees searching for files.

Outside of operations, because storage facilities also have shredders on site, any money normally budgeted for shredding services is also freed up.

Secure—

Storage facilities are protected with 24-hour surveillance. Files are protected with climate-control and fire suppressant systems.

Besides the facility's securities, storing off site also helps to keep sensitive information away from abuse or misuse. At an off site facility, it takes more than a file cabinet key to steal your files.
What's Your Plan for Storing What You'll Shred?
Learn more and join in with companies including Amazon, Apple, and Costco who've gotten the best of both worlds with shredding services rolled into storage when you visit us at Shred Nations Today.
To get your free, no-obligation quotes in just minutes, give us a call at (800) 747-3365 or fill out the form on the right.