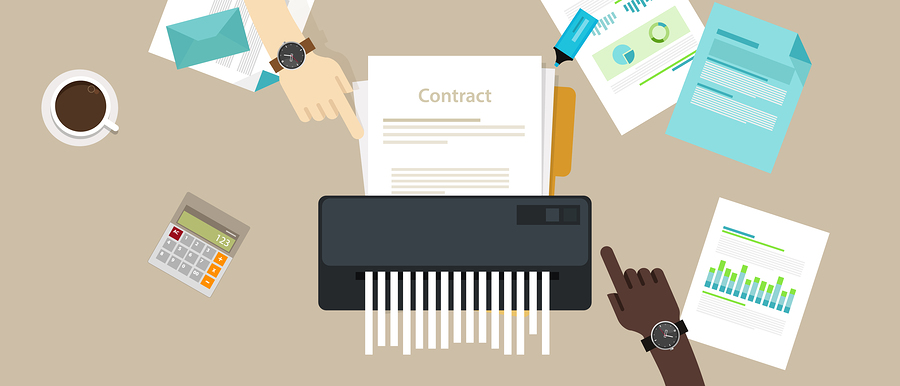 How can you be sure that your document destruction process was handled safely and within the proper protocol? The answer: a certificate of destruction. Learn what goes into a certificate of destruction, which services can provide them, and how it can protect you during future audits.
Video Transcription
Certificates of Destruction: What They Are and Why You Need Them
What Are Certificates of Destruction?
Like showing proof of purchase
A certificate of destruction helps protect companies in case of legal action or audit by providing essentially a receipt proving that sensitive information has been shredded securely. Certificates of destruction detail each step of the process, including chain of custody, date and time of destruction, witnesses, and other specifics.
Certificate Sample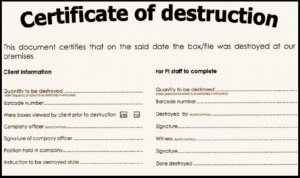 If you're ever asked about your document destruction and disposal for legal purposes, you can find everything you need here.
When You Receive a Certificate of Destruction
When you hire a mobile or offsite shredding company, certificates of destruction are given post-service as documentation for each step in the shredding.
Services Offering Certificates
To ensure that the documents you want shredded are securely destroyed be sure your shredding provider offers a detailed certificate of destruction. Top options include:
Mobile Shredding: Shred trucks come to your location to do the shredding. After you finish watching your papers be shredded, the provider gives you a certificate on the spot.
Offsite Shredding: Papers are picked up and taken to a shredding facility. It's less money than mobile, but it's just as secure since you still receive a certificate once the shredding is finished.
Hard Drive & Electronics Disposal: Available as either an onsite or offsite service, certificates are provided with services for added security and proof of safe disposal according to the EPA
Why Certificates are Important
Certificates of destruction are important because they give you assurance your information was shredded safely and can prove your information was securely disposed in case of legal action or audits.
"Keep Your Receipts"
One of the most common reasons for using certificates of destruction is for laws like HIPAA, which sets mandatory retention and destruction periods for medical records.
There's the option to shred it yourself, but without a certificate (or receipt) you have no proof you met the retention requirements—putting you at risk for potential legal implications and giving one more reason why certificates of destruction matter.
What Certificates of Destruction Include
Components of a certificate of destruction:
A unique, serialized transaction number that you can use in an audit trail
Transfer of custody that establishes the client's turning over of materials for destruction at a specific location and date
A reference to the terms & conditions or policies & procedures of the client and company for material processing
Acceptance of fiduciary responsibility by the company and agreement that everything accepted is considered confidential
Date the information was collected and the date the information was destroyed
The location of the destruction of the documents
Witnesses to the destruction
Want to be Sure Your Shredding is Secure?
If you have secure document shredding needs, Shred Nations and our range of shredding services can help. With certificates of destruction available to keep for your protection and peace of mind, our professional shredding providers make the destruction process fast and easy.
To get your free, no-obligation quotes, give us a call at (800) 747-3365 or use the form on the right to get started.