Drop Off & Ship 'N' Shred: The Guide to Small-Scale Shredding
Video Transcription
What Are Drop Off and Ship 'N' Shred Services
Drop off and ship 'n' shred services are designed with small-scale shredding for individuals in mind.
The services work like taking a package to post office, and in fact, many drop off locations are actually under the same roof as your nearby shipping centers.
Drop off's pricing makes it an affordable as well as convenient strategy for shredding private papers as needed.
Why Use Drop Off? Three Simple Reasons:
You can take papers to be shredded immediately

You pay for only what you shred instead of flat fees

Designed for small-scale shredding projects

Drop Off's Costs
On average, you can expect drop off shredding prices to run right around $1 per pound.
Pricing can sometimes vary from location to location—to check ahead of time, just visit our drop off directory.
Recommended Paper Amounts for Drop Off Shredding
Drop off shredding is the most affordable option for shredding up to a certain point. Beyond 100 lbs (3 boxes of paper), different services like mobile shredding become more cost-efficient.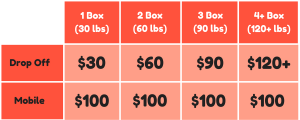 How Much Paper Do You Have To Shred?
If you store your papers in a bin, bag, or filing cabinet, you can still figure out how much paper you have and your best shredding option.
Just use our handy calculator and shredder helper here.
Drop Off Locations
Drop off locations can be found nearly anywhere.
They're typically located in your nearby pack and ship stores—there may even be one right around the corner.
Drop Off Shredding Security
When you drop off or send in your papers for shredding, they're stored in locked shredding bins.
After, shred trucks make regular stops at locations to shred dropped off paper.
Just like mobile services, bins are dumped into the shredder using mechanical arms so they never come into contact with employees.
Drop Off in Three Simple Steps:

Once your papers have been shredded and reduced to irretrievable scraps, all locations finish the destruction process by recycling the paper shreds.
Recycling After Shredding
Typically, recycling facilities don't accept paper shreds because they're too small to sort properly.
With drop off services though, our shredders work specifically with recycling facilities that do handle paper shreds—helping make shredding sensitive information not only a safe practice, but a green one as well.
Need Quick and Easy Shredding?
Drop off shredding is one of the easiest, most convenient solutions to your document shredding needs. To find a drop off location near you, search our Shred Nations listing directory or give us a call at (800) 747-3365.