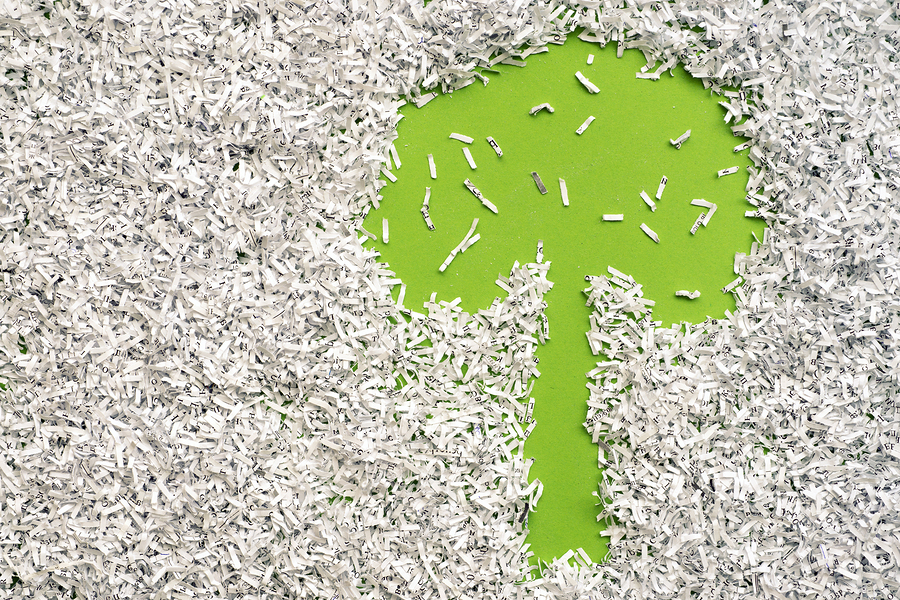 Sustainable and Safe Shredding
Why do companies choose to hire shredding services to get rid of their important documents rather than simply throwing them away themselves? Well, first, throwing documents into a trashcan can be extremely dangerous to a company's reputation. Shedding documents will  help prevent a data breach, identity theft or information being leaked. Secondly, throwing whole pieces or crumpled paper can cause landfills to pile up much quicker. Surprisingly, shredding paper can highly benefit the environment.
NaturallyEarthFriendly.com says recycling one ton of paper can save about 7,000 gallons of water and 4,000 kilowatt hours of electricity because it requires less energy, water and causes less pollution. Paper can be shredded up to seven times and can produce paper towels and plates. Just under five pounds of paper-related garbage is produced everyday by everyone, and all this paper goes to landfills where garbage rapidly piles up. Shredded paper can be composted which will save overall space in landfills and can eventually benefit trees, making a full circle.
Landfills are becoming more of an environmental concern causing pollution and contaminating groundwater and soil. Based on volume, paper is the largest element in American landfills, simply recycling paper will save a lot of space.
Shredding paper will not only give you a piece of mind with your confidential information security but will also be giving back to the environment in a positive way. Many companies are constantly looking for ways to improve the environment instead of harm, these days we need everyone on board with becoming sustainable. Hiring Shred Nations can be a small step in the big picture of going green. Shred Nations is proud to be in partnership with contractors that have many recycling tactics to make going green even more possible.
Offsite shredding is also geared toward becoming more sustainable by eliminating the amount of gas that you would be using to transport your documents back and forth from the shredding facility. Our contractors will come to your location and pick up any number of documents then safely transport them to an offsite shredding facility. This way it only uses one trips worth of gas compared to two or three that you may be taking depending on the size of documents you need shredded.
Shred Nations offers mobile shredding, offsite shredding, and electronic data destruction to comply with any paper shredding needs.
Get Free, No Obligation Quotes on Shredding Services Today!
If you have any questions about our shredding services, or already know what you need, feel free to fill out the form to the right or give our experts a call at (800) 747-3365.