According to recent data, the statistics on paper use in America are staggering. Individuals alone consume nearly 700 pounds of paper over a 365-day span, and it's only compounded by the 12 trillion sheets of paper offices tear through each year.
With a growing need for environmental sustainability countered with the traditional requirement for protecting sensitive personal or proprietary information, a delicate balance has now been struck in how these used documents must be disposed and recycled.
Here, we take a walk on the greener side of shredding—offering a closer look at how shredding providers are continuously working to improve and advance their services in order to provide homes and businesses with shredding services that never have to sacrifice security for environmental sustainability.
Keeping Customer Needs a Top Priority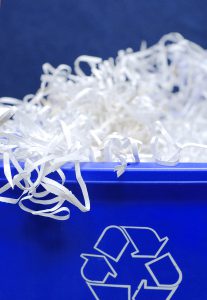 When it comes to the countless stacks of documents and other papers that stack up over time around homes and businesses, both companies and individuals are beginning to recognize the massive amount of paper waste America racks up in a single day—let alone an entire year.
Because of this, there is growing demand and emphasis on recycling programs to help reuse discarded materials and reduce carbon footprints—leaving many to now turn away from traditional trash cans and turning towards recycling bins for disposing waste.
Although recycling aluminum cans and glass bottles is simple enough—requiring individuals to simply toss waste in recycling bins without a second thought—recycling documents on the other hand can become a little more complicated.
Documents often contain sensitive personal or proprietary information, and unfortunately, when homes and businesses throw away these documents in recycling bins, there's no way of ensuring confidential information remains secure.
Once documents are placed on a curb for pickup by recyclers, they're considered public property—providing dumpster divers an opportunity for open season on your documents.
Furthermore, recycling facilities do not make use of locked shredding containers for transportation and expose sensitive documents or personally identifiable information to countless employees during sorting processes.
With potential risks to traditional recycling processes stacking up, many may wonder how they can balance their security needs with the increasing emphasis and priority on environmental sustainability, however with Shred Nations, homes and businesses are able to find a perfect compromise between the two.
Providing a greener way to handle and dispose of sensitive information without putting oneself at risk for identity theft and fraud, recycling initiatives are now being adopted and implemented into shredding providers' processes on a large scale in order to offer homes and businesses both sustainable and secure options for shredding their documents.
How Shredding Providers Do Their Part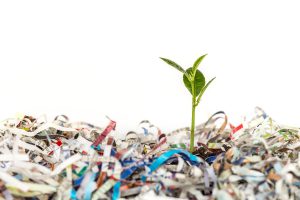 While naturally the primary responsibility of shredding providers is to ensure the sensitive documents and information they handle is shredded and disposed securely, shredding services and companies are also stepping up to create a greener world around us—and in more than one way too.
With governments, businesses, and individuals alike embracing the need for a sustainable environment, shredding providers are doing their part by utilizing recycling services to make paper shredding and privacy protection less wasteful processes.
Shredding sensitive documents and recycling them for reuse after destruction rather than sending them to landfills allows shredding providers to create a circle of life for previously discarded papers—saving not only the Earth's oxygen-producing trees, but the costs of manufacturing new paper products to boot.
To count environmental contributions, up to two trees are saved each and every time a Shred Nations document container is filled, shredded, and recycled—providing a perfect opportunity to get a measurable evaluation of just how green homes, businesses, and shredding providers are.
To top it off, not only do shredding companies work to improve their existing shredding processes with the addition of recycling, they also invest in new and environmentally-sustainable technologies to incorporate as well.
Already using more efficient trucks with improved gas mileage, lower CO2 emissions, and even biodegradable fuels, the shredding industry now has technologies like hybrid and electric trucks on their horizons—and with no end to sustainable shredding advancements in sight.
Searching for Green and Sustainable Shredding Services? Get Free Quotes from Environmentally-Friendly Providers Near You
There's no disputing the need or value of environmental sustainability both for document shredding and our society as a whole, and with the help of green shredding services and initiatives, homes and businesses are able to sustain the ideal balance of security and sustainability.
At Shred Nations, we partner with a nationwide network of the top providers in sustainable shredding—working to provide customers green recycling and shredding along with a slew of other advancements to ensure our document destruction services do their part to benefit our environment.
To get a free estimate or learn more about environmentally-sustainable mobile, offsite, and drop off shredding, just give us a call today at (800) 747-3365, or simply fill out the form at the right of your screen to get free quotes on green shredding services from the top providers in your area.
Additional Shredding and Sustainability Resources
For an industry founded on destroying paper waste, it can be hard to initially imagine how document shredding services contribute to environmental-sustainability. With this in-depth white paper, we take a closer look at the modern shredding industry, exploring the green shredding practices providers are adopting to provide a new balance of traditional security needs with sustainability.
Although many are quick to want to do their part and contribute to reducing our carbon footprint by recycling, be sure you understand the difference between simply recycling documents, and recycling shredded documents. Learn more about the potential security risks your recycling programs or processes may be exposing you to here.