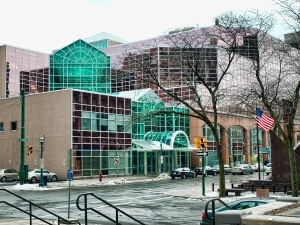 The seat of New York's Onondaga County, the city of Syracuse is home to over 700,000 inhabitants in its metropolitan areas, as well as top research universities such as Syracuse University and Upstate Medical University.
With the bustling educational industry alone as one of the primary employers for the city's residents, the need for proper protection and destruction of the paper and digital files being produced on a daily basis is severe.
Luckily however, using services from Shred Nations Syracuse, the safe and secure shredding of your sensitive documents can be a worry of the past.  
From coming right to your curbside and shredding all your files in a mobile shredding truck while you watch, to taking box-upon-box of documents off your hands and out of your mind to be shredded at a secure offsite shredding facility, Shred Nations Syracuse has you covered with customized pricing options for any service you need—as often as you'll need it.
Shredding Services Provided by Shred Nations Syracuse
While in the past shredding your documents meant either using an in-house shredder or taking your documents all the way to an offsite shredding facility, convenient mobile shredding services comes to your home or business, shredding your files at your location using one of our many mobile shredding trucks.
Designed to offer compromise between cost and convenience for our customers with large-scale shredding needs, Shred Nations' offsite shredding service picks up your documents at your location, safely transporting them to be shredded at one of our secure offsite shredding facilities.
Shred Nations Syracuse doesn't just offer our innovative paper shredding services for New Yorkers in need of protection for their sensitive documents. With our hard drive shredding and electronic media destruction services, you can be sure your digital media like CDs, fax machines, and old computers will have all their information wiped and rendered completely unrecoverable to potential identity thieves once you decide to dispose of them.
Applicable New York Shredding and Information Protection Laws
New York information Security Breach and Notification Act of 2005: In the event of information being compromised or a data breach, this New York law requires that businesses must inform their customers and other affected parties as soon as possible.
N.Y. Gen. Bus. Law § 399-H: This New York legislation states that no business or person can legally dispose of a record or file that contains any personally identifiable information unless they have already shredded all potentially sensitive information.
Receive Free, No-Obligation Quotes on Shredding Services in the Syracuse Area
Shred Nations Syracuse provide safe and secure shredding and electronic media destruction services throughout Syracuse and upstate New York. If you find yourself in need of an answer to your shredding problem, then Shred Nations is your solution.
We work to quickly connect you with the top New York shredding contractors to complete your project, no matter whether you are needing  convenient mobile services, or secure offsite shredding facilities. To learn more about what we do and how our shredding services can help you, simply give us a call at (315) 238-5581, or just fill out the form to your right to get free shredding quotes today!
Shred Nations Syracuse's normal operating hours are Monday—Friday, from 8:30AM to 6:00PM EST.