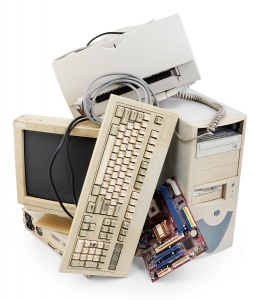 When replacing office equipment or retiring old devices, it is important for your business and identity to properly destroy of the electronics. Searching old hard drives for stored information is one of the easiest ways for identity thieves and hackers to steal your valuable information.
Properly retiring old office equipment is not only essential for keeping your private information, there are also laws regulating how electronic devices should be disposed of. There are a few different reasons to securely destroy your devices including:
Environmental laws
HIPAA requirements

HIPAA requires that any document or electronic device that stores personally identifiable information of costumers or patients must be securely destroyed.

Identity Theft and Corporate Espionage
Product Destruction
When getting rid of old computers, it's not just computer hard drives you should be concerned with destroying. Here is a list of office equipment that must be completely destroyed to protect your data.
Hard Drives and Old Computers
When you retire your computers, you need to make sure that all the data is properly destroyed. Formatting the hard drive can be ineffective because with the right software, it can be restored.  There are services and software solutions that can wipe the data on your hard drive too, but they are slow and require you to start up every computer to wipe them.
Fax Machines
Today, when you send information over fax machines, a copy of the digitized information is stored in the internal hard drive of the fax machine. This poses risks for companies that send and receive confidential information by fax.
Photocopiers
Many people do not know that photocopiers have a hard drive, and every time you make a copy of a document, an image of the document is saved to the hard drive.
Besides devices that contain hard drives, there are other products that you need to securely dispose of.  Some of these products are:
Biomedical devices such as physiologic monitors, infusion pumps, ventilators, MRI, CT, and diagnostic ultrasound and laboratory analyzers
Mobile devices such as cell phones, smart phones, PDAs, tablets and laptops
Legacy magnetic media like floppy drives, zip disks and magnetic tapes
PC hard drives
Optical media, including CDs and DVDs
USB removable media such as pen drives, thumb drives, flash drives and sticks
Memory cards, including SD, SDHC, MMC, compact flash drives and sticks
Embedded flash on boards and devices, including motherboards and peripheral cards such as network adapters or any other adapter containing nonvolatile flash memory
RAM and ROM based storage devices
Hard Drive Destruction
The most cost effective way to guaranteed hard drive destruction is hard drive shredding. By having a hard drive and other equipment shredded you can rest assure that hackers and theieves will never be able to retrieve you confidential information and data.
Here is a list of the on site hard drive shredding process and what you can expect:
At a time appointed by you, we bring our state-of-the-art equipment to your facility.
All Hard Drives are inventoried.
A hand held scanner records the serial numbers, itemizing the hard drives into the computer.
Hard drives are only destroyed "On-Site" using one of the following methods:
A mobile shredding unit, capable of shredding 500 Hard Drives per hour.
A Mobile Document Shredding truck equipped with a hard drive crusher.
A printed or e-mailed certificate of destruction is issued that includes all of the serial numbers for a legal audit trail.
Rock Solid then recycles all of the destroyed material.
Reuse Old Equipment
Whether you are giving the PC away or recycling it, you need to remove your data from the hard drive.  Simply deleting your files from "My Documents" is not nearly good enough.  Private data is kept in many places:
Desktop
My Documents, My Pictures, etc
Favorites
Browser Histories
Registry
Other folders and files
Keep in mind that giving old devices or recycling equipment without proper hard drive erasure leaves you vulnerable when it comes to hackers and identity thieves. The best way to protect your confidential information is by having your hard drives completely and securely shredded by a hard drive destruction professional.
Do you need electronic media destruction services?  Shred Nations Can Help!
Shred Nations offers hard drive destruction, electronic media destruction services, and proper electronics recycling to ensure all the data on the electronic equipment you're retiring is completely unrecoverable.  Our network of contractors allows us to come to your location if you need to ensure a proper chain of custody, or the ability to have you ship your drives to a secure facility to be destroyed.
You are provided a certificate of destruction that details when and where the hard drive was destroyed, and then pieces are separated into component parts and recycled.
To get started, fill out the form to the right, or give us a call at (800) 747-3365 to get free quotes on your project in minutes!