When it comes to shredding your paperwork, it can be rough to find a way to shred everything you have.  You may have a little bit too much paperwork for a home shredder.  Or you may not have a home shredder and don't have quite enough to take to a drop off location, or to have a mobile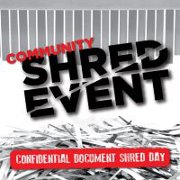 service come out to you.
One thing that most towns will have every now and then is a shred event.  This is a way to have everyone come out and have their documents shredded right in front of them!  A shred event involves having a mobile shredding contractor come to a location with a shredding truck.  This allows everyone to bring their secure documents and have them put into the truck so that they can watch their paperwork being taken care of.
This is the perfect way to know that your files have been destroyed properly.
Shred events are typically hosted by places like banks, a city building, a recreation center, or bigger companies to raise the awareness of identity theft.  It is a way for a company to branch out while helping the community get rid of their secure documents in a safe way.
The best way to find a shred event in your area is to look online at your city's information web page and see if they have anything posted.  You can also ask around to see if anyone else has heard of a shred event in the near future.
Ready to Start Shredding? Shred Nations Can Help!
Our network of local contractors has the tools and know how to get your shredding job of any size done fast. Call us today at (800) 747-3365 or fill out the form on the right for free quotes today! We will get back to in minutes to get your project started!