Have you looked into getting a mobile paper shredding truck to come to your location?  Have you ever wondered how exactly they work?  There are a few different parts of a paper shredding truck that make the whole process work quickly and efficiently so that you don't have to stand around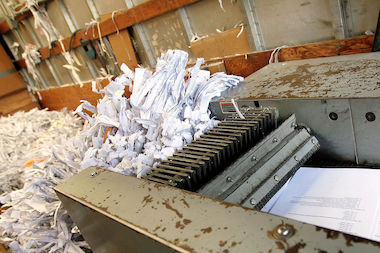 and wait for your paperwork to be destroyed.  You also get to watch everything being destroyed which is always nice.  That way you have peace of mind that your secure documents have been handled properly and you have nothing to worry about.
When a mobile paper shredding truck come to you the first thing they do is assemble all of the paperwork that you need to have destroyed.  Once your paperwork is all set up next to the truck they turn on the industrial size shredder in the back.  This shredder is huge and can destroy piles of paperwork at one time.  They can also shred through paperclips, staples, and file folders.  This is nice because you don't have to worry about going through and separating everything to shred one by one.  Once the paperwork has been shredded thoroughly using the criss cross shredding, your shredded paperwork is sent back to the facility where it will be baled and then recycled!  This makes sure that your paperwork is mixed in with a ton of other paperwork and once it is recycled everything is completely erased and untraceable.