Once you have finished shredding your secure documents there is always a question as to what's next?  There are plenty of options to make sure that everything is taken care of, but the best answer is to always recycle shredded paper.  You are more than welcome to take the shredded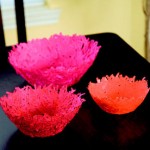 paper and make crafts though!  You could make something like these decorative bowls if you have time.  If you don't want to make fun things with your shredded paper, your options are a little bit more limited.  Whether you typically recycle in your home or not, when it comes to recycling your shredded papers, it is worth the effort.  You actually receive extra protection when you go through the paper recycling process.
Throwing away already shredded paperwork isn't usually an issue, but it isn't the safest solution either.  Although it is extremely rare, if someone was bound and determined to get to your information, they could take the time to try and piece together some of your paperwork.  Especially if it is just a small bag of scraps.  It really isn't a huge issue these days, but why not just recycle anyways?  Not only does recycling save the environment, but it literally erases all of the information that was on the paper to begin with.  One of the first steps in the recycling process is to throw all paper scraps into a vat of chemicals that separate the ink from the paperwork.  That makes knowing that your records are safe even easier.