Shred bins are an essential part of scheduled shredding services. Secure shred bins allow you to safely store your documents between shredding sessions so you don't have to shred every day, and they comply with all security and privacy laws including HIPAA and FACTA.
Choosing the right size and type of bin can make document collection and protection easy and efficient. Shred Nations and our partners offer multiple sizes of secure shred bins, and you can choose one that best fits the size of your office and your shredding needs. 
When choosing shred bins for your office, you should consider the following:
The volume of documents you produce
How often you want the shredder to stop by and shred your files
How many bins you need or have space for
Where they will be placed in your office
Types of Secure Shred Bins
Shred bins fall within three main categories:
Personal shred containers (bins that can fit under a desk)
Standard shred consoles
Shredding carts or totes (large, secure, and fitted with wheels for easy transport)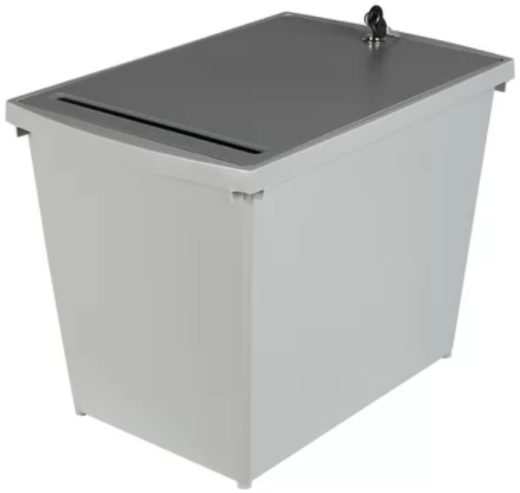 Personal Shred Containers (PDC)
These types of shred bins are for low volume workspaces. If you produce a few sheets to a few pounds of paper per week that require shredding, personal shred bins will meet your needs.
These bins can fit discreetly and conveniently underneath an individual's desk, or they can be placed on a shared counter top without taking up too much space so multiple people can access them.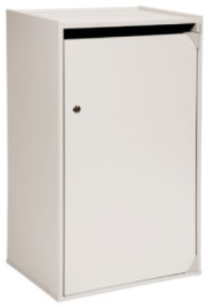 Standard Shred Consoles
These stand alone bins come in two sizes: mini consoles and standard consoles. Designed to handle the shredding needs of an average office, these bins usually have a capacity of either 75 or 100 lbs.
Mini shred consoles can be anywhere from 1/2 to 2/3 the size of a standard console, which usually stand a little taller and are slightly slimmer.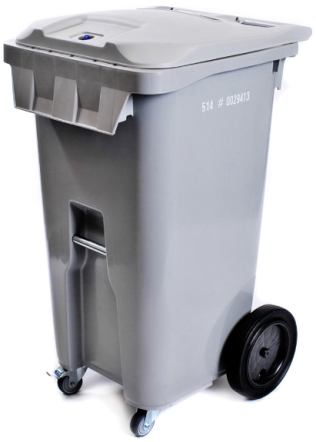 Shredding Carts and Totes
Designed to efficiently and safely store large volumes of documents for shredding, carts and totes are equipped with wheels for easy transport to the shredder.
These larger bins have capacities anywhere from 32 to 175 gallons. These shred containers are fitted with secure hasps so you can use padlocks to safeguard your documents.
All of the above shredding bins are completely safe and meet security and data privacy standards across industries. The different sized bins simply allow you to customize your scheduled shredding service experience. You can choose which size and how many bins you require based on your individual needs.
When you sign up for pre-scheduled shredding services your provider will be able to supply you with shredding bins, but you can also purchase your own in advance from third party vendors. Remember that you may also need to rent/purchase reusable nylon bags that fit inside of your shred console.
Shred Bins Sizes and Dimension Chart
Shred Bin Sizes and Dimensions
Avg. Height
Avg. Width
Avg. Depth
Avg. Capacity (lbs)
Avg. Capacity (gal)
Personal Shred Console
14"
17"
12"
20 lbs
6 gallons
Mini Shred Bin
27"
19"
16"
75 lbs
24 gallons
Standard Shred Bin
35"
19"
19"
100 lbs
32 gallons
Shredding Tote
38"
16"
20"
120 lbs
32 gallons
Shredding Cart
43"
25"
32"
230 lbs
64 gallons
Large Shredding Cart
46"
30"
36"
340 lbs
96 gallons
Extra Large Shredding Cart
48"
49"
31"
600 lbs
175 gallons
Need a Better Way to Secure Your Private Documents?
Shred Nations has an extensive network of document shredding providers nationwide. Whether you need offsite shredding, onsite shredding, or regularly-scheduled shredding services, we can help you find a secure, reliable shredder in your area.
Call us at (800) 747-3365 or fill out our form to get free quotes on shredding services near you.