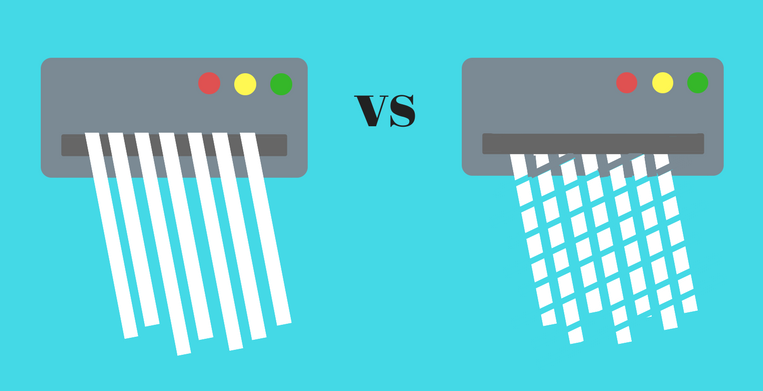 In the document shredding industry there are two main types of shredders: strip-cut and cross-cut.
Choosing the right type of shredder is based on your individual needs, including how secure you want your shredding to be, how fast you want to complete the job, along with other factors.
Here is a comparison between cross-cut shredders and strip-cut shredders:
Cross-Cut Shredders / Confetti Shredders
Cross-cut shredders cut each paper in two directions, giving you a comparably smaller shred (5/16″ x 3″ to 1/32″ x 3/16″)
Cross-cut shredding is more time consuming because each sheet is cut in multiple directions, making the process a bit slower
The smaller pieces produced from a cross-cut shredder are harder to re-assemble—if you're highly concerned about security, cross-cut shredding will provide more protection for your personal information and critical documents
Cross-cut shredders tend to be more expensive than strip-cut shredders due to the extra work they are capable of
Strip-Cut Shredders
A strip-cut shredder cuts the paper in long strips that can vary in size from 3/32″ to 1/2″
Strip-cut shredders shred documents faster—if getting your shredding completed quickly is your top priority, a strip-cut shredder is the way to go
There are less moving parts in strip-cut shredders, so they tend to have less maintenance requirements than cross-cut shredders
Documents that are cut into strips are easier to re-assemble than the confetti-like bits produced from a cross-cut shredder. With software and technological advances in scanning and reconstruction, strip-cut documents can be reassembled with some effort.
Selecting a personal shredder that meets your needs will take time and consideration.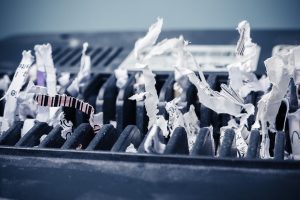 If you choose to shred your documents yourself, we recommend a cross-cut or confetti shredder. When you toss all the shreds into one trash bin behind your house, it will be much harder (if not impossible) for a thief to reassemble the pieces.
Need a Better Way to Shred?
Shred Nations helps thousands of customers across the U.S. find the right shredding solution for their needs.
Our partners shred documents for thousands of companies and individuals across the U.S. every day—their methods are tried and true.
Whether you have dozens or thousands of documents that need to be shredded, we'll help you find the service that best meets your needs.
Give us a call at (800) 747-3365, fill out the form, or contact us directly using our live chat for free quotes on shredding services near you.