In Baltimore, MD | 700 Aliceanna Street
700 Aliceanna Street
Baltimore, MD 21202
Reviews
Support
Text me this address
---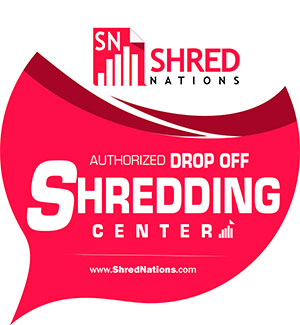 Paper Shredding Near Me
Check out the paper and document shredding service options in Baltimore. We have many options to accommodate your document shredding needs.
Drop-Off Shredding in Baltimore
Drop-off paper shredding is a convenient and cost-effective solution for your small-scale shredding project. Designed for volumes of 90 pounds or less, drop-off services make it possible to complete low-volume paper shredding with professional service benefits. 
Other Shredding Services We Offer*
Paper shredding services with the convenience of shredding at your location. Mobile shredding provides the utmost security option as it allows businesses and individuals to witness the shredding.
Off-site shredding services are designed for projects over 90 lbs and for those that do not need to witness the shredding happen. A secure shred truck picks up your papers and transports them to a secure, off-site facility to be shredded. 
Personal and business data is found on hard drives, which is why destroying a drive correctly is imperative. Shred Nations in Baltimore can help keep this information safe through secure hard drive shredding and destruction services. *Hard drive shredding is not offered at our drop-off locations. Please call for other service options.
We offer other electronic destruction services as well. Securely destroy the data on all of your electronic devices, including cell phones, tablets, and computers. Destruction ensures this data cannot be recovered in the future, so your private information stays private. *Electronic Destruction is not offered at our drop-off locations. Please call for other service options.
You can schedule recurring paper shredding for more consistent service. You can set up a recurring pickup that fits your needs, including bi-weekly, monthly, etc. 
*Not all services are available at all locations. Please call to confirm.
Frequently Asked Questions
How does drop-off shredding work in Baltimore?
Gather your documents that need shredding
Drop them off at the nearest drop-off shredding center in Baltimore
Pay by the pound - price will vary by location
Your documents are safely stored in a secure, locked shredding bin
When the bin is full, a mobile shred truck stops by to shred the contents of the shred container
Do drop-off locations offer hard drive shredding?
No, our drop-off locations do not accept hard drives for shredding. However, we have other solutions for your small-scale or large-scale needs. Give us a call to learn more!
Do I need to remove staples, paper clips, binder clips, etc?
Usually, staples and paper clips can be left on the documents; however, binder clips need to be removed. These requirements can vary based on location, so we do recommend calling the drop-off center first.
What if I need to witness the shredding?
If you need or want to witness shredding, a mobile shredding service is the best option for you. Mobile shredding comes to your location and shreds the documents right there.
Location Phone
(410) 895-1806
Located in The UPS Store