Document shredding services help companies keep their private information private. Every business document has an expiration date, and rather than toss private customer, employee, and other sensitive business information in the trash where anyone can access it, paper shredding offers some peace of mind.
While some companies may only need to shred a few sheets of paper a day, other organizations may produce hundreds or thousands of documents a week that require shredding. If this is your situation you should consider regularly scheduled shredding services, where you'll discover the benefits of shredding bins.
What Are Shredding Bins?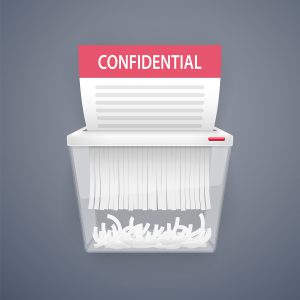 Shredding bins are secure, locked bins that have a small slot to feed paper into. When you sign up for regularly scheduled document shredding services, your provider will give you bins to place around your office. These bins will securely hold your paperwork between visits by your shredding provider.
Depending on how often you accumulate documents that need shredding, you can choose to have one or several bins spread throughout your office.
Overtime you simply collect the documents that need shredding in your bins. Your shredding company will stop by on the pre-scheduled dates to pick up the bins, shred the contents, and replace the newly-empty bins in your office to start the process over.
Alternatives to Regularly Scheduled Shredding Services
Shredding bins and regular services are useful to companies that quickly produce and accumulate sensitive documents. If your business sporadically produces large volumes of documents that need shredding, one-time shredding service options are available.
Shred Your Confidential Files for Peace of Mind
Shred Nations is dedicated to helping companies of all sizes find document shredding solutions that meet their needs. Whether you will benefit from ongoing services or just require a one time shredding purge, we can help.
Call us today at (800) 747-3365 or fill out the form on the right for more information on services available near you, and we will get you several quoted options for free.