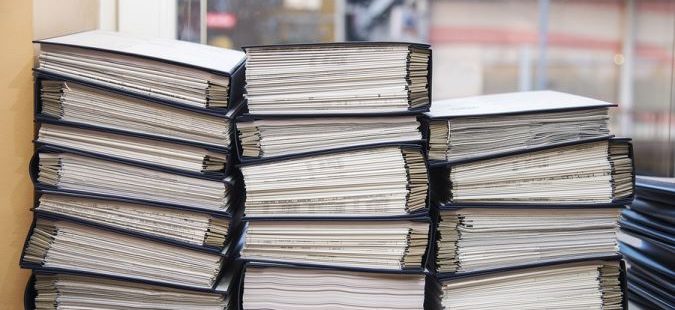 Organizing your office or home can be a big project. Sorting through old records and deciding what to keep and what to trash can take hours or even days.
Once you've sifted through your files and decided what to keep, you might realize that housing boxes full of documents is an inefficient and unsafe way to store your records.
Scanning services make it easy to digitize your files and transfer boxes worth of heavy paperwork onto a small thumb drive or secure hard drive.
But once you've scanned your records, what do you do with the paper copies? If you continue to store them, the digitizing process was unnecessary, but tossing them in the trash isn't the right answer either.
Why Can't I Toss Old Records in the Trash?
Once you place something in the trash and place your garbage can out on the curb, everything in it becomes public and unprotected.
If you put records in your trash that contain sensitive information, anyone can go through your trash and find account numbers, passwords, email addresses, phone numbers, and other private information that will allow them to steal your identity or access your accounts.
What Do I Do With Old Paper Documents?
Instead of leaving your information vulnerable in the trash, consider shredding your documents.
Shredding your files keeps all of your information secure, and if you use a shredding service provider they will recycle the paper shreds, which not only protects the environment, but also adds an additional layer of security to the process.
What Are My Shredding Options?
There are several ways to go about shredding your files.
Shred Yourself
You always have the option to shred your files yourself. You can purchase a home or small office shredder and shred your documents yourself, but if you have more than a few sheets of paper, this can be a tedious, time consuming, and messy task.
Personal shredders are slow, quickly overheat, easily jam up or break down, and require maintenance over time.
Use a Shredding Service
Shredding services are quick and secure, and you have a variety of options depending on how much you have to shred.
If you have several boxes or over 100 lbs of paper to shred (calculate how much you have to shred) your best options are either mobile shredding, which sends a shred truck to you to shred onsite, or offsite shredding, which picks up your files to shred them at a secure facility.
If you only have a few pounds of paper to shred, there are drop off shredding centers all over the country that allow you to drop off your files and pay for shredding by the pound.
Let Shred Nations Help Keep Your Information Secure
Shred Nations partners with secure document shredding service providers throughout the nation.
Our services are completely free and require zero commitment. You get free quotes on shredding services in your neighborhood and then choose the option that best meets your needs.
Call us at (800) 747-3365 or fill out the form on the right to get free quotes and find a shredding service near you thats affordable, convenient, and secure.