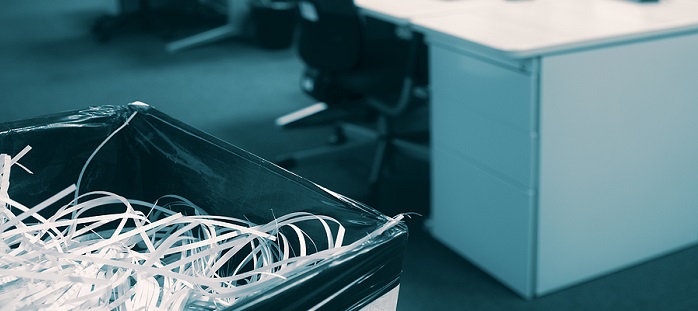 When it comes to things like making the transition to a paperless business or even just a yearly spring cleaning type of project, going for a bulk shredding option with just a giant, one-time shredding project is typically the best option for several reasons.
Learn more in the video below about what separates one-time bulk shredding from other types of projects, the various situations where one-time shredding is the ideal option, the benefits gleaned from bulk shredding, and finally how exactly the shredding process works.
Video Transcription
What Exactly Is Bulk Shredding?
As the name implies, bulk shredding involves large-scale shredding—in some cases referred to as purge shredding—where the projects are typically designed to be a one-time service, like for example when companies are making a paperless transition and shredding old hard-copies after scanning.
In terms of methods, since bulk shredding projects are usually 100+ lbs either mobile or off site shredding is used to either shred materials at the location or take them for shredding at an off site facility.
When Is One-Time Shredding the Best Option?
Going for a single large-scale shredding project rather than regularly shredding in small amounts is ideal for when you know you are going to be accumulating a lot of paper to dispose but can wait till you have maximum quantity before actually shredding.
Bulk shredding frequently is used as an annual event to clear out space in general. However, purges can also be requested for other potential reasons to shred in bulk such as:
End-of-year projects when documents need to be shredded based on their required retention schedules
When businesses or organizations are either moving locations or making the one-time conversion from paper to paperless
When a document's information becomes obsolete because of time passing, a merger, or potential acquisition
Bulk Shredding's Benefits
Although the cost-efficiency of a one-time purge shredding project is one of its primary advantages, there are other benefits to be had from using mobile or off site shredding like certificates of destruction and the fact that they come to you rather than you having to transport your materials.
Cost-Efficient
Higher Quantity Equals Lower Cost
When it comes to how much you have to shred, a higher volume typically translates to lower overall cost since bulk shredding is actually cost-efficient for shredding providers too.
For example with mobile shredding, you may be able to get a better price since you'll be saving providers from making more stops during the day and wasting more gas to shred a similar amount of paper.
Another advantage is how compared to small-scale shredding options where the price tends to scale upwards with project size, mobile and off site shredding are usually a flat cost.
Secure
Multiple Steps Taken for Shredding Security
Bulk shredding projects provide many of the same security benefits offered by mobile and off site shredding, such as:
For mobile shredding you're able to witness shredding yourself.
Shredding providers give you locking containers fo collect what you plan to shred.
Shred trucks are equipped with automated arms to lift containers up and in for shredding.
After shredding you get a formal certificate of destruction with security details that can be used as proof of compliance during a legal dispute.
Leftover shreds are recycled and reused for new paper products, leaving the old information truly gone without a trace.
Convenient
Maximum Convenience When Shredders Come to You
When it comes to any type of service having it come to you is nice, but with a one-time purge shredding project where you have hundreds or even thousands of pounds of paper to shred, it's particularly valuable to not have to personally transport your materials.
With both mobile and off site bulk shredding, a truck is sent to your location on the scheduled date. With mobile, the shred truck destroys the materials at the location while as the name implies with off site a truck picks up and transports your materials for destruction at the provider's off site shredding facility.
A Closer Look at the Purge Shredding Process
You can easily incorporate the process of purge shredding into your office routine.
Collect Materials for Shredding
Before anything, you first need to gather what you plan to shred as it accumulates over time.
Many providers give you locking bins that can hold as much as 64 gallons where you drop in papers for shredding similar to a mailbox, and once the container is full you schedule a date for shredding.
Schedule a Shredding or Pickup Date
Once your containers are full, you schedule a date for your provider to either come shred your materials on site with a mobile shredding truck or, for a lower cost, simply pick them up and transport them to an off site facility for shredding instead.
Shred Materials On Site or at an Off Site Facility
On the scheduled date the provider comes to either shred your materials right there from your curbside or, instead, pick them up to be taken to an off site facility.
While you do have higher security with on site by witnessing the shredding, off site will usually be the cheaper option since providers save time.
Receive a Certificate of Destruction
After materials are received and destroyed, you receive a certificate of destruction in return as proof that the destruction was in compliance with all applicable laws. Details in certificates include:
When the shredding was done
Where the shredding was done
Shredding witnesses
A unique serialized transaction number
Chain of custody details from initial disposal to final destruction & recycling
Recycle Leftover Paper Shreds
Finally, once your materials are shredded and you've received your certificate of destruction, paper shredding advisors have the leftover shreds recycled to end the process on a sustainable note.
Besides being environmentally friendly, recycling the scraps also leaves absolutely zero chance for shreds to ever be reconstructed or still be misused in some way.
Are You Preparing for a Large-Scale Shredding Project?
Join the countless other businesses large and small who we've helped to find the best options for their different bulk shredding needs when you visit us at Shred Nations today.
For no-obligation quotes from providers near you, fill out the form to the right, use the live chat option, or give us a call at (800) 747-3365.